July 13, 2021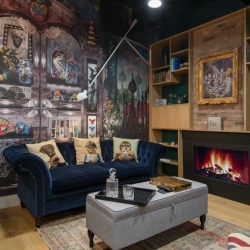 Workplace Insight and IN Magazine publisher Mark Eltringham recently took part in a lively episode of the Nowhere Office podcast with Julia Hobsbawn, Stefan Stern and Joanna Swash. They considered the current nature of work, what long term changes we can expect to emerge now and the role of working culture in providing a great experience for everybody, whoever and wherever they are – and whenever they might work.
Julia Hobsbawm OBE is an entrepreneur, writer, and consultant who addresses the challenges of the hyper connected age, in particular remedies of what she has called Social Health for organisations. She is the recent author of the Nowhere Office report for the Demos think tank and is currently working on her latest book which explores its themes in greater detail.
Stefan Stern has been writing about management for over two decades for the BBC, Management Today, the Guardian and the Financial Times, where he was the management columnist between 2006 and 2010. He is Visiting Professor in management practice at Cass Business School, City University, London.
Joanna Swash is the CEO of Moneypenny, a UK-based 24/7 global provider of call answering and other services with over 1,000 employees.