July 13, 2021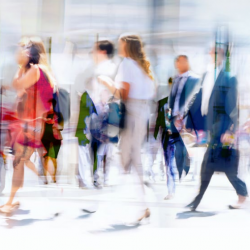 Organisational purpose, responsible business practices and diversity are growing in importance at Board level and for HR teams, as employers make the connection between good environmental, societal and governance practices and business growth, according to survey findings from the Reward & Employee Benefits Association (REBA) and Mercer Marsh Benefits (MMB).
The findings claim 95 percent of firms are committed to becoming purposeful responsible businesses in order to drive future business growth. However, more work is needed to embed these beliefs in workplace culture, with only 47 percent of respondents saying their line managers cares for employees' mental wellbeing.
The findings also claim that only 21 percent of respondents felt line managers cared about ESG. The report, Aligning corporate culture and human values, explores how businesses are reshaping their corporate values and HR policies to create fairer, more sustainable workplaces.
The importance of acting responsibly as a business is increasingly informing Board level thinking, with 78 percent of respondents citing responsible business practice as a high-priority Board value. Factors such as employee expectations, pressure from investors, reputation management and a recognition that acting responsibly is the 'right thing to do' are contributing to this shift in thinking.
Sustainable business
The report also highlights six out of ten (60 percent) firms said that organisational purpose is enabling them to focus on becoming a long-term sustainable business. In practice, however, there is still work to be done with just over half of businesses (58 percent) citing that climate change and environmental issues are a high priority Board level value, and just 28 percent are linking ESG values and executive pay.
Climate-related factors are also low on the list of priorities for HR policies, with just 13 percent saying that HR takes account of net-zero emission targets. As might be expected, people-related ESG factors rank higher in HR's priorities, with 80 percent prioritising employee mental wellbeing.
Debi O'Donovan, Director of Reward & Employee Benefits Association commented: "CEOs and business leaders are under pressure to set and meet environmental, social and governance (ESG) measures within their organisations. We are increasingly seeing shareholders invest elsewhere when businesses cannot demonstrate responsible business values. To meet ESG measures, CEOs need the insights and skills of their HR teams. Many HR and reward teams are increasing their focus on the 'S' within ESG, primarily through employee wellbeing, and are also starting to focus on environmental issues."
DEI and human values at Board level
Shifting skills needs, demand for top talent and increasing recognition of the link between DEI and business sustainability are some of the factors influencing executive-level focus. The MMB and REBA report highlights how 78 percent of respondents cite workplace diversity, equality and inclusivity (DEI) as a high priority at Board level. With Board commitment, DEI will start to become an integral part of business growth.
However, while Boards and HR teams recognise the value of DEI, only 50 percent of respondents said that line managers were committed to DEI across their business, and a further 18 percent stated commitment to DEI was rarely seen within their organisation. This mismatch between executive DEI goals and day-to-day practice at line manager levels shows that there is still a major gap between employers' intentions and actual behaviour.
"Companies are aware that their corporate culture, values and purpose have to align with wider societal views"
"Companies are aware that their corporate culture, values and purpose have to align with wider societal views," Michelle Sequeira, UK DEI Consulting Leader, Mercer said: "Stakeholders; whether that's customers, investors or employees expect organisations to live their company values, clearly demonstrating that their employment policies and employee benefits are aligned with their commitments to the outside world. To become part of the fabric of business, human values and organisational purpose need to be recognised at the executive level. These changes also need to also cascade throughout the workforce to really move the dial on organisational culture."
Ms Sequeira added: "DEI and wellbeing currently represent the dominant priorities, however many organisations are taking a more holistic position on the framework of responsible employment practices that raise levels of decency and fairness. Responsible employers will design a complete employee experience, covering rewards, skills and careers, often through a DEI lens".