August 30, 2019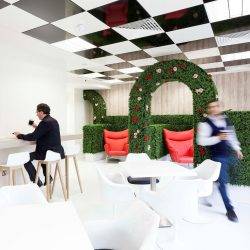 The workplace, as we know it, is rapidly evolving and the role of the traditional office is changing. In fact, what current trends are pointing towards is that the whole work culture is shifting, with the employee experience becoming equally important as consumer needs. The new norm of the workplace is being flexible, dynamic, and versatile – yet, more often than not, companies lag behind in providing the right tools to support these trends. We can often see a significant gap between what the workforce needs and what the workplace offers.
In order to harness the full potential of the future workforce, companies need to start incorporating technology that enables productivity. Especially considering 2020 is the year Gen Z:ers are predicted to make up 36 percent of the workforce, since this generation grew up around technology and knew how to use phones almost before they learned how to speak.
Collaboration has been the buzzword of 2019, and even though it's not a new concept, the increased mobility of the modern workforce has led to the need for new tools to help teams communicate across continents. This increased mobility has also prompted the role of the physical office to evolve. Rather than having set, designated places of work day in and day out, it has become apparent these resources can be used much more efficiently when opening them up and creating more agile workspaces. Flexible working trends have led to the rise of shared office space, a concept which is already trending all over the world.
Last year alone we witnessed a 21 percent increase in the demand for flexible coworking spaces by corporations, and the trend is due to grow dramatically over the next five years with an estimated 5.1 million co-workers by 2022. Sharing office space is both cost efficient and practical, yet it also comes with its own challenges, not least when attempting to organise this space and the facilities it offers between masses of people from various different companies.
The sharing challenge
The challenge with shared office space is, unsurprisingly, sharing the space. While there may be enough resources available for all, if not organised efficiently, much of the space will go to waste and only lead to confusion and interruptions.
As a workforce we are not only more mobile than ever before, but also more dynamic: there is a general need to make things happen quickly, and it is no longer viable having to spend time finding meeting rooms and arranging logistics for it when the need for an ad-hoc meeting arises – it needs to be arranged easily, quickly, and while on the move if need be.
To optimise space usage there is a need for a behavioural change, where we move from choosing the closest room to choosing the most appropriate one
As humans we tend to be quite set in our ways. When arranging a meeting we often walk straight up to the room we're most used to or happen to be in close proximity to – without considering how that room suits our particular needs at the time. To optimise space usage there is a need for a behavioural change, where we move from choosing the closest room to choosing the most appropriate one.
To accommodate future work trends, it'll be crucial for organisations to determine the strengths and weaknesses of the company, and look where the opportunities lie to improve operations with the help of integrating the right technology. The truly agile, modern, digital workplaces of the future must address the needs of the workers they host. Today, many employees merely drop in for meetings or briefings, but who generally carry out much of their work remotely – and often turn up largely unannounced.
The office of the future must accommodate this, with space available for quick online booking at all times, along with a range of digital equipment and 'hot desks' accessible when a colleague from across the world appears at your doorstep.
Images: Peldon Rose / Office Space in Town