December 7, 2017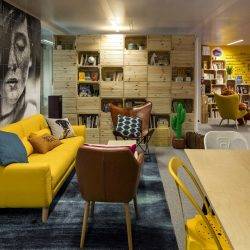 The rise of the flexible office is the result of dramatic changes in the way corporate occupiers approach their real estate decisions, and will open up opportunities for landlords able to adapt and respond to these shifts. These are some of the claims from The Flexible Revolution (registration required), a pan-European report from CBRE exploring the flexible office market. Over the past decade the global flexible office market has been growing at an average of 13 percent per annum. Growth rates in EMEA (excluding UK) and APAC have averaged around 20 percent per annum, while the more mature and larger markets of the UK and the USA have seen average growth of 10 percent per annum over the same period. Key European cities like Berlin, Paris and London have all seen strong year-on-year growth of 12 – 21 percent between 2016 and 2017, which is comparable with markets like New York and San Francisco, where the flexible office concept has existed for longer.
The main growth drivers have been technology – such as on-demand apps – economic trends such as rising levels of self-employment – and, behavioural changes such as a greater focus on flexible working styles, portfolio agility and the need for quicker go-to-market strategies. In combination with business disruption more generally, these are producing changes in corporate occupiers' approach to real estate decision-making, leading to a growing need for flexibility within portfolios.
London is the largest market by far, not just in European terms but globally, with over one thousand serviced and co-working centres. The reasons for London's pre-eminence include the length and relative inflexibility of UK leases, for which flexible offices may provide a solution for occupiers.
The Central London market has seen a diversification in the type of occupiers taking space, including a notable uptick in the amount of space leased to flexible space operators. Demand for flexible space has been fuelled by an increase in the number of small businesses in the UK since the recession (22 percent) and heightened political and economic uncertainty. Recent strong levels of take-up by flexible space operators show no signs of slowing. Demand remains robust with some operators reporting close to 100 percent occupancy of some centres.
New entrants are making their mark on London. A global co-working start-up entered the market in 2014 and has since expanded to over 2m sq ft if space, covering all the main London submarkets, with the majority of offices located in East London near to the 'Silicon Roundabout' tech cluster. Other co-working focussed operators, many with only one or two centres are springing up to cater to local demand from tech start-ups, including ad-hoc centres operating from cafes such as Forum in Shoreditch and hotels such as The Curtain in the same area, which combines a members' club and co-working space. Traditional landlords have also reacted; British Land launched its own flexible space brand Storey in 2017, which will operate within its existing London assets.
From an investor perspective, the growth in this sector presents opportunities and challenges around market access and valuation. The market is adapting to the change in the way tenants are occupying office space, and there seem to be three models emerging that investors can utilise to access the flexible office market; the traditional lease model, a platform model or a profit/revenue share model.
The report concludes that the building of the future is likely to move away from the traditional model of all floors being let on conventional lease terms. New developments will incorporate a flexible space element from inception with new buildings marketed as having floors dedicated for this purpose, along with wellness and other shared amenities. This hybrid model mimics the typical growth trajectory of 21st century business – from inception of idea in accelerators right up to the long-term occupation of global corporates – providing landlords with sustainable tenant retention.
Image: Station F in Paris, the world's largest incubator space