May 8, 2019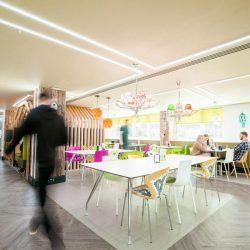 Productivity in the office is a big thing, as the more productive employees are, the more successful the business will be as a result. While most people go through peaks and troughs of productivity during their working life, it's important for employers to give it their all when it comes to trying to keep the workforce as productive as possible. Therefore, many have come up with ways to make this happen.
One of the first ways that is becoming increasingly common is to promote and encourage healthy eating and exercise. Mental wellbeing is huge in the working environment, and it also has an impact on productivity too. Therefore, we're now seeing forward thinking companies such as InTouch Games have gyms built on site, or at the very least striking up deals with local gyms for employees to use. A lot of offices also do their best to encourage healthy eating by providing fruit for employees to eat. If a person feels good, it will positively affect their productivity levels.
Life in general is always better when there's something fun and exciting to look forward to, and that's also the case in a workplace environment too. Employees are much more likely to be productive and to stay productive if they're looking forward to an office day or evening out. While a typical office excursion is often food and drinks, a day at the races or even night out at a comedy club, there are several unique group activities to explore.
Thanks to the advancements made in technology over the last decade or so, more and more people are now able to work from home. In fact, many see this as the way forward and can offer a great alternative to the office environment. This is by and large down to the internet and to tech developments like cloud computing. Sometimes, giving employees the opportunity to set their own work hours and schedule is a great way to keep them productive. They'll likely feel more trusted and independent as a result, with productivity arriving from the faith shown.
Every business, no matter how big or small it is, will have levels to it, with some working above and ultimately below others. A great way to keep employees productive is to therefore insist that as a company, employment is made from within, opening pathways of progression within the firm. If an employee knows there are genuine opportunities to advance in their careers, they're much more likely to be productive and to stay productive for the long haul.
Furthermore, any workforce is more likely to stay productive when they know what targets they need to meet on a daily, weekly and monthly basis. A lot gets said about writing lists, as when we can go ahead and cross things off them, there is natural sense of achievement. Therefore, it's always a great idea to have a board of targets or aims in the office, possibly one per team, while also giving employees their own targets to reach too.