May 8, 2019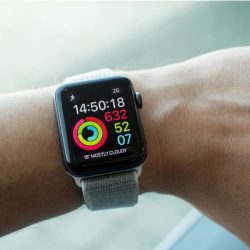 While the use of wearables, Internet of Things (IoT) devices that are worn or inserted as implants, in smart building applications will give people completely new ways of interacting with their surroundings, their potential could be tempered by an increased risk to privacy due to the type and quantity of data being collected. The good news is that, combined with automated building controls, occupants will be able to control and automate their own 'personal' environment as well as improve their wellbeing.
"With a growing body of evidence supporting the theory that people who are healthier and happier tend to be more productive, progressive companies are exploring new ways to improve the comfort, health and wellbeing of their employees," commented Jonathan Copley of Siemens Smart Infrastructure. "Early adopters of wearables in building applications are likely to be in health and care facilities, home and hospitality markets. Wearable tags have already been deployed to monitor the vital signs of patients to control their recovery environment and similarly, IoT sensors are being developed to aid people in distressed situations e.g. an elderly person who had fallen or an emergency responder trapped in a burning building."
The level of complexity increases for large buildings with multiple occupants
Wearable technology collects useful information such as the location, body temperature, tiredness or stress levels of a wearer [employee] in their environment and communicates this to the building information system in real-time. Analytics determine the actions that will benefit the wearer (or majority of wearers) which could mean changing temperature, ventilation or lighting in certain locations of a building. The level of complexity increases for large buildings with multiple occupants having differing needs and thus requiring intelligent control.
"As wearable devices make their way into the workplace and corporate networks, they bring a host of security and privacy challenges for IT departments as the scale and scope for monitoring increases exponentially," added Copley.  "Aside from the sensitive personal data, employees may also feel uneasy about being tracked throughout their day and having that information catalogued.
"While the public are already pretty comfortable with the idea of health-monitoring devices which have been used by some employers in their workplace wellness programmes, it is not inconceivable for devices to be used for monitoring an employee's productivity or activity: i.e. to check if someone was actually doing what they were supposed to be or whether that person was where they were expected to be.  he onus for safeguarding information and using data for the purposes intended will fall on businesses to act in good faith, for the greater good of the workforce. Companies will be mandated to operate open and transparent policies on data privacy."
The link to wellbeing
Henry Lawson, senior market research analyst in BSRIA's World Market Intelligence division commented: "At BSRIA we have been monitoring and analysing the emergence of wearable technology and its potential role in enabling smart buildings for some time and have published two white papers on the subject (registration). We see wearables as a key facet of the growing interest in comfort and wellbeing, which is increasingly recognised as offering a big potential economic return, in addition to helping make people healthier and more productive."
The real challenge is posed by how far people will be willing, or indeed should be willing, to share highly sensitive personal data
"The technology is already available to use wearables to collect a wealth of hard information about the user's physical state and even by implication their mental state, which can then be used to adapt their environment to make them more comfortable and more efficient. Obviously building systems need to be capable not just of interpreting this information but of making subtle and localised adjustments to the environment, which may have implications for the capabilities of the HVAC, lighting and other systems deployed in the building," added Lawson.
"These technical issues are resolvable. The real challenge is posed by the question of how far people will be willing, or indeed should be willing, to share highly sensitive personal data.They need to be confident that this data will be secure, and also that it will not be used to create a kind of "surveillance" environment, whether at work or elsewhere. This is likely to require a combination of positive incentives for people to wear these devices, and the creation of suitably rigorous codes of practice, backed up by legislation if necessary.  We might agree to let Big Brother into our lives, but only if he behaves himself," Lawson continued.
Irrespective of the perceived risks the potential of wearables to revolutionise smart building applications is vast with the most innovative and influential use cases yet to be devised. On wearables and wellbeing, Copley concluded, "If an employee is not feeling well due to their environment then there is a loss in productivity. Wearables have the potential to deliver an ideal indoor environment that can bring the best out of people."