May 27, 2021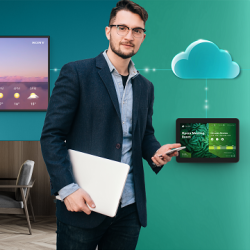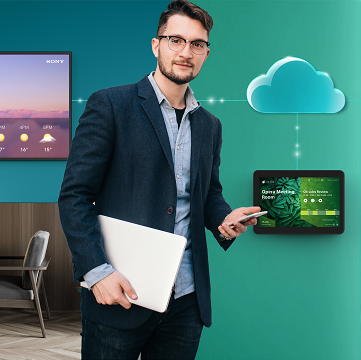 Sony has announced a wide range of updates, improvements and new releases to its transformative workplace management solution, TEOS, designed to help organisations achieve a welcoming and productive workplace for their employees as they return to the office.
The features at the core of TEOS version 3.0 reflect a direct response to the market shift towards reimagining operations in preparation for the new workplace, so that organisations can succeed in the post-pandemic economy.
With its new cloud offering, the platform can offer a more inclusive and simplified business model split between both SMB and enterprise, to enable smaller firms to get set up quickly and easily, while allowing larger firms to realise more complex projects. This latest TEOS release also strengthens core features, such as revamped interface and template designs, new room-booking and signage workflows, as well as features that enable flexible working.
"The COVID-19 pandemic has indelibly changed the modern workplace in many ways – Sony's TEOS is leading the way through these new ways of working in the mid-pandemic and post-pandemic age. While the physical office will always be necessary for things like social stimulation and deeper cross-functional collaboration, a new ecosystem is evolving thanks to the normalisation of flexible remote working. Our determined ambition is to set the standard for the post-pandemic workplace, through technological solutions that are adapted to, and optimised for, our modern reality.
"With this release we are demonstrating our continued commitment to developing features for our TEOS offering that enable smart solutions which will innovate the future workplace." Commented Thomas Issa, TEOS Solutions Head of Strategy & Planning, Professional Solutions Europe.
Available as of May, Sony's TEOS 3.0 includes the following new and improved key features:
• Cloud Offering – Enabling SMBs access to TEOS, without requiring investment in on-site hardware or physical infrastructure.
• Improved UX – Enhanced user experience across all solutions, including workflow and design updates.
• Signage Optimisations – New elements added to make signage design even more flexible, with templates related to weather, news, social media, sports, and more.
• Service Interface Upgrades – Improved functional experience related to services offered, including incident and service reporting function added to room booking, catering, and mobile app.
• Dual Room Booking – Easily create two room booking interfaces on one tablet to fit between two rooms, allowing for company cost reductions and more flexible deployment for employees.
• Flex Office Features – Unlock added functionality for hybrid working models, including:
– QR Code reader compatibility
– Zoning function for desk booking
– Live occupancy details in TEOS
– Parking spot management
• Interface designs and templates – Granting users access to over 20 new templates across room booking, digital signage, and meeting display, with on-demand design available as an optional service.
• Simplified Business Model – Streamlined service approach for TEOS partner organisations, including:
– Reduced the number of licenses and services
– Split offering between SMB and Enterprise customers
• Change Management Service – Enabling organisations to increase TEOS adoption rates and dramatically improve employee performance.