August 12, 2021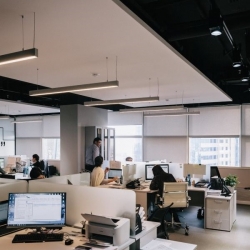 Pent-up demand on hold in 2020 has returned with office take-up in the first half of this year nearly a quarter above the five-year average, according to Savills' data. Demand is outstripping supply with a development pipeline equal to five months take up in an average year said the property agent.
Commercial research director Steven Lang said: "The resurgence in transactional activity in the greater London and the southeast office market has continued as we begin to emerge out the Covid-19 pandemic."
Take-up in the first quarter of this year totalled 1.87m sq ft combined with 775,000 sq ft transacted in the second quarter. Savills said there had been strong corporate activity in the market with six deals over 50,000 sq ft – the joint highest total at the half-year stage in the last ten years.
The largest deal in the second quarter was the leasing of 120,000 sq ft at the Broadcast Centre, White City. Another big transaction was the acquisition of 57,387 sq ft at Windsor 1, Windsor Dials. The building had been comprehensively refurbished and was let prior to practical completion.
The public sector was the most active business category in the second quarter acquiring 141,000 sq ft; at the half-year stage, it accounted for 28 percent of take-up. This was due to the Department for Work and Pensions expanding the Jobcentre Plus office footprint. Other notable sectors included life sciences, technology and professional services.
Top notch offices command record rental rates
"The flight to quality in the market has been evident, with 68 percent of take-up recorded being of grade A quality, which is the highest proportion in the last three years. This is a trend we expect to continue as we emerge out of the pandemic. Grade A office buildings which can enhance the workplace experience and satisfy environmental, social and governance criteria have proved attractive to occupiers," said Mr Lang.
"The flight to quality in the market has been evident"
Savills had noticed occupier sentiment improving reflected in the number of requirements recorded. There have been 3.99m sq ft of requirements in the first half of this year – a 56 percent year-on-year increase.
Average grade A rents have increased by 16 percent in the last five years. The rental growth has been driven by a combination of limited supply and new developments of unprecedented high-quality specification. Record high headline rents were achieved in Bromley, Windsor and Chelmsford in the second quarter.
See the full data here.