December 20, 2021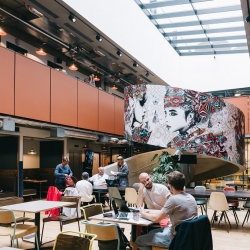 According to  data from The Instant Group 584,097 companies have been registered in the UK since the start of 2021 – this equates to 1,781 per day. The most companies registered in 2021 so far have been in London, Birmingham, and Manchester. The growth in start-ups has fuelled an increase in demand for flexible offices across the UK's cities, with large proportional increases outside London. Requirements for coworking and serviced offices has grown significantly in cities such as Bristol (41 percent), Manchester (28 percent), and Reading (27 percent) over the past year.
Since 2018, Manchester (51 percent), Bristol (31 percent) and Newcastle (22 percent) have seen the biggest increase of enquiries of flexible offices. While London has remained flat, the capital continues to dominate its share of the market with 21 percent of all UK enquiries – the same market share seen in 2020 & 2019.
Entrepreneurial growth via start-ups played a pivotal role in driving the growth of coworking following 2008's global financial crisis, with supply increasing year on year by 25 percent over the following decade. Instant expect this new wave of entrepreneurial activity to be one pillar that supports the next wave of growth within the flexible workspace market. Forecasts indicated that over the next five years we will see the market grow by up to 84 percent as both entrepreneurial activity and increased interest from medium and corporate companies fuels the next phase of the industry.
John Williams, director, Instant, said: "As we saw after the 2008 financial crisis, the immediate effects of a recession can be severe with mass job losses and huge financial implications for individuals and businesses alike. But even before COVID-19, redundancy and unemployment were driving high levels of entrepreneurship in the UK.
"Small and medium sized businesses are the backbone of the UK's economy and there is no denying that the COVID-19 pandemic took its toll on everyone in the business sector in one way or another. But entrepreneurs and smaller businesses, by their nature, are far more flexible and able to adapt easily and this makes them more resilient and able to recover far more quickly.
"It's really encouraging that we are seeing so many new businesses being registered. Creating opportunities for these organisations to thrive is essential for increasing productivity, creating jobs and boosting our economy."
"Flexible workspace such as coworking is already back at pre-Pandemic levels of occupancy as SMEs drive requirements across the UK's cities. Coworking thrived after the last recession in 2008 as start-ups flourished."