March 10, 2021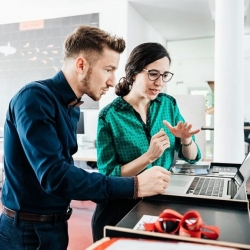 New research by CWJobs, claims three quarters of UK businesses (72 percent) increased their overall investment in tech tools, talent and training by an average of £1.48 million in 2020, as digital capabilities enabled them to maintain business continuity throughout the pandemic.
Tech hiring and training budgets surged by nearly £400k, but with only a quarter of IT decision makers (27 percent) satisfied with their employees' abilities to use these new technologies properly, businesses are not yet seeing return on their investments.
1,000 tech workers and 500 IT decision makers were surveyed in the UK, to understand how tech investment and relevant training is developing, as a result of increased tech demand since the start of the pandemic.
Tech training challenges
According to 'The Tackling Tech Training report', nearly two-thirds (64 percent) of companies increased their spend on technology hiring in 2020, while two thirds (67 percent) increased their tech training budgets. However, despite this monetary commitment, less than one in 10 companies (9 percent) have trained all necessary staff in the tech tools they invested in last year overall, with notable gaps in training for analytics tools – where less than 4 percent of companies trained up all necessary staff – followed by software platforms (8 percent) and cloud infrastructures (8 percent).
The research didn't just highlight that training is lacking, but that IT decision makers are facing a myriad of challenges when it comes to delivering effective training too. A quarter cite a hesitance from both workers and their superiors to make time for training (25 percent), a third struggle to deliver sessions whilst working remotely (33 percent) and a similar amount can't keep employees engaged (31 percent).
While three in five businesses (63 percent) say they will be reviewing their tech training strategy this year, these findings suggest they'll fail to deliver if they can't communicate the benefits of training to the wider business and find ways to create engaging virtual programmes.
Closing the tech talent gap
Businesses have much more to gain from technology training beyond realising the potential of their investments; training is an important employee incentive for two thirds of tech workers (65 percent), and almost all (94 percent) value training throughout their careers.
The tech talent gap provides another reminder of the importance of training, with worries that the gap is only expanding. Almost three in five organisations (57 percent) said Brexit will widen the tech skills gap in the UK, due to the impact on the flow of talent coming from the EU. With the same amount (58 percent) saying the pandemic has put greater pressure on hiring tech talent, businesses are now scrambling to develop these skill sets from other avenues.
As a result, organisations are taking a broader approach to supplementing their technology departments in 2021 and are planning to develop tech expertise from employees that are upskilling (22 percent), reskilling (21 percent), entry-level (20 percent) and experienced (21 percent). However, if these workers aren't trained up effectively, the tech skills gap will not be successfully closed.
"Technology is only ever as effective as the employees that use it"
Dominic Harvey, Director at CWJobs said: "Technology is only ever as effective as the employees that use it, and whilst it's encouraging that training budgets are surging, our findings show that these budgets aren't being spent effectively. It is imperative that employers find creative ways to navigate the challenges of remote training and engage their workers to avoid their investments going to waste, as well as close the tech talent gap. A fully-trained, empowered workforce will ensure these digital investments deliver great results for years to come."
"Tech talent has become a vital component for business growth – if organisations don't have the skills required to take advantage of advancing technologies, they will lose competitive advantage" added James Frost, CMO at tech training provider QA. "The challenge is that there simply isn't enough tech talent to go around. Instead of continuing to rely on traditional recruitment programmes, organisations must find new ways of building the skills needed. Whether it's through reskilling the existing workforce, or introducing apprenticeship programmes into the talent strategy, HR teams must work with the wider business to find more creative ways of delivering the skills organisations require to emerge stronger from the pandemic."
Image:CWJobs