October 18, 2021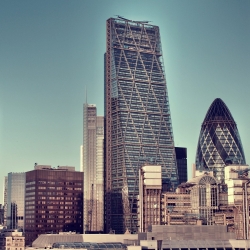 A new report from property consultancy Cluttons looks at the new challenges the Prime Central London office market faces in 2021/22, with issues such as Brexit and the immediate impacts of the global pandemic – but also longer-term problems like changing lifestyle preferences, the uptake of remote working and climate change.
The market cycle trend has not been kind to Prime Central London in recent years, with house prices rising fastest in the north of England and stagnant or falling in London. Despite this, research highlighting the relationship between Prime Central London and the North of England over the past 25 years demonstrates that although Prime Central London has been under-performing since 2015, compared to even the 2000 peak, the current ratio of falling to rising prices to a typical northern market is still relatively high.
Key trends 
New development has been driving an eastward and southward expansion from the traditional core of Prime Central London.
Many Prime Central London submarkets are home to established communities of various nationalities. The pandemic has seen London's population fall, with estimates suggesting over half a million non-UK born residents have left the capital. This could trigger a shift in supply and demand in some locations.
'Lockdown-proofing' is now a key consideration for many potential homebuyers. Access to nearby parks and green space, somewhere to set up a home office, and balconies or gardens have all moved up the priority list, along with digital connectivity and energy efficiency.
High rise flats have also seen a separate fall in demand due to building safety concerns following the tragedy at Grenfell. This has led to uncertainty in valuations for homes in tall buildings, in some cases limiting the market to cash buyers.
The pandemic may leave Prime Central London with an excess of office and retail properties. The Office Market Review reported that take-up in Central London was 64 percent lower than the five-year average, and availability was 24 percent higher.
Bounce back
In the immediate future, international travel will recover, and more workers will return to their offices for at least some part of the week. This points to some level of recovery in demand from both discretionary buyers and those more driven by a 'need' to be in Central London.
Levels of wealth for the potential Prime Central London buyer/investor demographic have grown significantly through the pandemic, so the ability to buy remains strong. Higher inflation could also drive demand for real assets.
Drivers of change
Changing lifestyle preferences might mean moving out of London to a completely rural location for some people, but equally it may just mean trying to find a flat with outdoor space or nearer to a park. Cluttons' agents have already noted lower demand for flats without gardens or balconies.
Minimum energy efficiency standards (MEES) for letting property were introduced in 2018 (with the rules being tightened in 2020 for residential / 2023 for commercial). They already appear to have had an impact on buildings in Central London.
Read the full report here.
Image by 14184437