February 12, 2013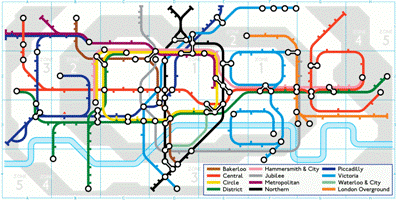 Tech and media companies continue to shape the world's cities and local property markets according to a recent report from BNP Paribas. While this is a global phenomenon, some of the most dramatic developments will take place in London, not least a shift of tech firms in the city away from their heartland towards Kings Cross following Google's $1bn purchase of 2.4 acres of land within a major new development in the area. The new development may become a hothouse for technology companies in spite of the UK Government's focus on promoting Tech City and surrounding areas in East London. 
According to the BNP Paribas report, during the first three quarters of 2012, the technology media and telecoms (TMT) sector occupied 28% of the market. A similar pattern is evident around the world.  In Germany, during the same period, 4.1m sq ft of office space was occupied by TMT companies. The most popular locations were Munich, where the TMT sector occupied 23% of the market, securing more than 1.3m sq ft, and Düsseldorf, where the TMT sector occupied 22% of the market, securing more than 0.5m sq ft.
Within the Ile-de-France region, which includes Paris, the TMT sector occupied 5% of the 20,000 sq ft plus market during the same period of 2012, securing more than 495,139 sq ft. However, a large amount of TMT companies are start-ups, so much of the smaller space will also be occupied by this sector.
Looking ahead, the report predicts that sector will continue to grow; with 54% of London TMT firms expecting to increase headcount over the next three years, which translates to an additional 1.2m sq ft of demand above the sector's current average take-up through churn. In total, TMT sector UK office take-up is forecast to reach 4.65m sq ft by the end of 2014.
According to the research, London was ranked by TMT professionals as the world's second most important TMT centre behind New York, but ahead of Los Angeles, Paris, Hong Kong, Berlin and the Silicon Valley.
BNP Paribas Real Estate's MD of Central London, Dan Bayley said: "The growth in the significance of TMT in Europe is set to further increase. This is good news, as TMT companies step up to fill part of the gap left by financial services firms. Interestingly, the research shows how this key occupier group identifies with emerging locations / satellite markets within London and Paris, as they tend to base themselves within flexible, edgy and modern office space. However, elsewhere in Europe locational preference varies but the preference is still for buildings, particularly in Spain and Italy, that are good value and well-connected both in physical transport and telephony terms," concluded Bayley.
Inevitably this has led to pressures in the market as we reported here.  One possible outcome in the case of London is for there to be a significant shift in the hub of technology firms away from the galloping increases in property prices and paucity of supply of appropriate spaces in Old Street and Tech City to follow Google to a new area around King's Cross.
Last year it was reported that Amazon had appointed Cushman and Wakefield to find up to 750,000 sq.ft of space within London.  Meanwhile Microsoft are looking  to open an 150,000 sq ft office by 2014, whilst Sony are searching for 60,000–250,000 sq ft of space by 2015.