March 4, 2016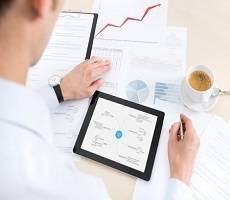 Despite, or possibly because of the development of sophisticated digital handheld devices, a majority (85 percent) of UK office workers believe they would be able to perform their duties more efficiently if their workplace was equipped with better technology. In fact, 16 percent said that the technology they use at home is far superior to that provided by their employer. The research, conducted by webexpenses, found that over a quarter (28 percent) of respondents felt client relationships and sales could also benefit from a boost in technology at their organisation. When asked about what aspects of their job could be improved by better technology, 41 percent said that the management of teams and internal communications could be greatly enhanced. The workers also said that poor temperature controls (21 percent) a lack of space available in the office (20 percent), and their company's reliance on arduous paper based processes (14 percent) were other sources of frustration.
Looking at wider complaints in the UK's offices, the research found that 30 percent of UK office workers find their colleagues moaning to be the biggest annoyance, along with people getting involved in office politics and gossip (19 percent) and colleagues being too loud and disruptive (18 percent).
The impact of technology on financial tasks was another area that the UK's office workers felt could be improved by better technology. When it comes to financial processes like submitting work-related expenses, nearly a third (31 percent) of respondents said that their company could benefit from having better technology in place. In contrast, over half (53 percent) of respondents said that they currently find claiming expenses back from their company an arduous process.
Adam Reynolds, CEO of webexpenses, said: "It's clear from the results of the research that the office working environment creates some common challenges for employees. What's more, it's these seemingly small frustrations that can indicate deeper-rooted issues that are potentially holding back many UK businesses.
"Take office technology for instance. The fact that 85 percent of office employees have told us that they could do their job more efficiently with the right technology clearly indicates a need for many organisations need to bring their IT systems up-to-date to better support staff and company processes."