April 11, 2019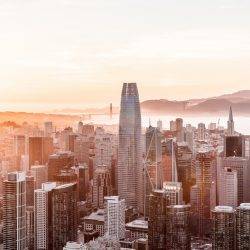 The Council on Tall Buildings and Urban Habitat (CTBUH) has announced the winners of the 17th Annual CTBUH Awards Program. These winning projects – comprising tall buildings, urban developments, and technical innovations – competed for winning distinctions at the 2019 Tall + Urban Innovation Conference from April 8–10 in Shenzhen. The CTBUH Awards Jury has named Salesforce Tower in San Francisco designed by Pelli Clarke Pelli as the "Best Tall Building Worldwide", in addition to naming Category Winners across 20 award categories.
Described by Best Tall Building Jury Chair Karl Fender, Founding Partner, Fender Katsalidis Architects, as a "building that gives back," Salesforce Tower was recognized for its multipronged focus on occupant health, sustainability, structural efficiency, and a significant level of integration with the surrounding urban habitat. "The building stands as the centerpiece of a new transit-oriented, mixed-use neighborhood recently freed up for development following the demolition of an aging transit center. The result is not just a contribution to the city skyline, but a highly successful exercise in human-centric and resilient design for tall buildings."
Salesforce Tower was selected from the "Best Tall Building" track, which falls into five height thresholds: under 100 meters, 100–199 meters, 200–299 meters, 300–399 meters, and 400 meters and above. Additional categories include: Urban Habitat, Innovation, Renovation, Interior Space, and Construction, alongside five categories focused specifically on Engineering achievements.
The full list of winners
The CTBUH Annual Awards program claims to recognises "projects and individuals that have made extraordinary contributions to the advancement of tall buildings and the urban environment, and that achieve sustainability at the highest and broadest level. The objective is to deliver a comprehensive and sophisticated view of these important buildings, spaces, and technologies, while advocating for improvements in every aspect of performance, especially those that have the greatest effect on the people who use them each day."
The full list of recognised projects are:
Best Tall Building Worldwide
Winner: Salesforce Tower, San Francisco
Best Tall Building <100 Meters
Category Winner: Forma Itaim, São Paulo
Award of Excellence Winners
Emblem, Sydney
Kampung Admiralty, Singapore
Lè Architecture, Taipei
The Opus, Dubai
Best Tall Building 100–199 Meters
Category Winner: Amorepacific Headquarters, Seoul

Award of Excellence Winners
Baidu Headquarters, Shenzhen
Crystal Laputa Towers, Chengdu
DUO, Singapore
European Patent Office, Rijswijk
Manhattan Loft Gardens, London
Morpheus, Macau
One Park Taipei, Taipei
Best Tall Building 200–299 Meters
Category Winner: Shenzhen Energy Headquarters, Shenzhen

Award of Excellence Winners
181 Fremont, San Francisco
277 Fifth Avenue, New York City
Best Tall Building 300–399 Meters
Category Winner: Salesforce Tower, San Francisco

Award of Excellence Winners
China Resources Tower, Shenzhen
Jumeirah Nanjing Hotel & International Youth Cultural Centre, Nanjing
King Power MahaNakhon, Bangkok
Best Tall Building ?400 Meters
Category Winner: Ping An Finance Center, Shenzhen

Award of Excellence Winners
CITIC Tower, Beijing
Best Tall Office Building
Category Winner: European Patent Office, Rijswijk
Best Tall Residential or Hotel Building
Category Winner: 277 Fifth Avenue, New York City
Best Tall Mixed-Use Building
Category Winner: Kampung Admiralty, Singapore
Urban Habitat: Single-Site Scale
Category Winner: Kampung Admiralty, Singapore

Award of Excellence Winners
150 North Riverside, Chicago
Tanjong Pagar Centre, Singapore
District/Master Plan Scale
Category Winner: Central Park, Sydney
Award of Excellence Winners
Changsha Jinmao Meixi International Plaza, Changsha
One Shenzhen Bay, Shenzhen
UNI-Center, Shenzhen
Innovation Award
Category Winner: Viscoelastic Coupling Damper (VCD)

Award of Excellence Winners
Building Maintenance Unit and Vertical Delivery Planning at H Queen's
Parametric Digital Strategy for Morpheus
Robotic Installation System for Elevators
Self-Climbing Kokoon®
The Development of EFFECT (External Façade Fire Evaluation and Comparison Tool)
Renovation Award
Category Winner: CHAO Hotel, Beijing
Award of Excellence Winners
Five Manhattan West, New York City
Torre Europa, Madrid
Interior Space Award
Category Winner: Amorepacific Headquarters, Seoul
Award of Excellence Winners
Jumeirah Nanjing Hotel & International Youth Cultural Centre, Nanjing
The Central Bank of Kuwait New Headquarters Building, Kuwait City
Construction Award
Category Winner: Atira La Trobe Street, Melbourne

Award of Excellence Winners
Hanking Center Tower, Shenzhen
Jumeirah Nanjing Hotel & International Youth Cultural Centre, Nanjing
Structural Engineering
Category Winner: 181 Fremont, San Francisco
Award of Excellence Winners
CITIC Tower, Beijing
Manhattan Loft Gardens, London
Wilshire Grand Center, Los Angeles
YC Condominiums, Toronto
MEP Engineering
Category Winner: Britam Tower, Nairobi
Award of Excellence Winners
181 Fremont, San Francisco
Amorepacific Headquarters, Seoul
Raffles City Hangzhou, Hangzhou
Salesforce Tower, San Francisco
Geotechnical Engineering
Category Winner: 181 Fremont, San Francisco
Award of Excellence Winners
Avalon Brooklyn Bay, New York City
Panorama Tower, Miami
Façade Engineering
Category Winner: Azrieli Sarona Tower, Tel Aviv
Award of Excellence Winners
10 Hudson Yards, New York City
Gaia Building, Quito
Vanke Jierong Tower, Shenzhen
Fire & Risk Engineering
Category Winner: Morpheus Hotel & Resort at City of Dreams, Macau
Award of Excellence Winners
181 Fremont Tower, San Francisco
Ping An Finance Center, Shenzhen
10-Year Award
Category Winner: The Pinnacle@Duxton, Singapore

Award of Excellence Winners
Broadcasting Place, Leeds
Linked Hybrid, Beijing