May 8, 2015
Commuting is one of the most complained about yet least explored facets of our working lives. This is in spite of the fact that it consumes so much of people's time, energy and money, is presented as one of the main arguments for more flexible working practices and is so closely linked to our wellbeing. Yet the half a billion – and growing – commuters worldwide could be forgiven for assuming nobody is really that much interested in the effects of their daily grind into work, especially when you consider the attention given to other workplace issues. Douglas Langmead in his feature on page 32 of the new issue of Work&Place does his bit to redress this imbalance with a fascinating look at commuting in the rapidly developing and endlessly fascinating economies of the United Arab Emirates.
A broader look at the issue can be found in a book called Rush Hour by Iain Gately, which will be published in paperback in June. It begins, as does each day for many of the UK's workers, on a cold station platform in South East England awaiting a train to London. Gately describes how he attempts to distract himself in this mundane situation by observing those around him and teasing out some personal, sociological and anthropological meaning from why they all subject themselves to it and how they manage it in their own ways.
The book offers its own fascinating journey, from a historical description of the rise of public transport and commuting in London through to tales of how people use their time on trains productively. Even before the rise of the smartphone, Gately suggests, people found ways of making use of their time. He relates a tale of how Albert Einstein in his days as a humble clerk in Bern spent his daily commute pondering the nature of time while gazing at a town hall clock and musing on what was to become The Theory of Relativity.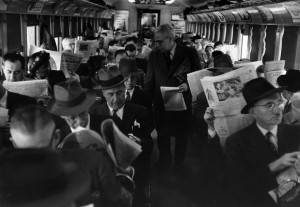 Equally colourful is the tale of how city planners in both New York and London spent a great deal of time considering the best way of dealing with the heaps of horse manure that piled on the streets as more and more people moved around the burgeoning metropolises of the early 20th Century. The piles of manure may not have reached the heights of nine feet envisioned by these planners but nevertheless public transport did transform the shape of old world cities as those with a great enough income migrated to their leafy suburbs and paid to get into work each day, while the poor lived in the centres within walking distance of dockyard and factory.
Gately also considers how commuting has its own cultural peculiarities around the world. Many Asian cities retain a fondness for their tuk-tuks, bicycles and scooters. Indeed the Flying Pigeon, a single gear bicycle may well be the single most successful mode of transport ever devised, most commonly associated in Western minds with hordes of citizens making their way around Beijing. This is not an unfair stereotype according to Gately because at least half a billion of these bikes have been sold since 1950, Deng Xiaoping once defined Chinese national prosperity as "a Pigeon in every house" and many young women would only accept a marriage proposal if their suitor owned at least one. The book tells a similar tale about the Honda C100 Super Cub scooter, which the author claims is the world's most successful motor vehicle and still in production following its introduction in 1958.
Gately is rather less warm when he turns to describing the depravations of the daily commute for those people routinely packed onto buses and rail and underground carriages in developed cities. He describes such phenomena as temperatures on underground systems that can exceed those deemed acceptable when transporting livestock. Gately also details the systems introduced on mass transit networks to deal with the hordes of people that use them. The Tokyo Metro famously employs oshiyas, uniformed staff who shove passengers onto the carriages. According to the author, there is an average of seven deaths each day on the Mumbai Suburban Railway. The seats on the Newcastle-upon-Tyne Metro were found to host 190,500 bacterial cells per square centimetre.
The author is pretty upbeat when he concludes that "although commuting is accused of causing a host of problems, both physical and psychological, including stress, obesity, hyperactivity, impotence and heart disease, by many measures commuters are life's winners. Together, they gather most of its gold, live to ripe old ages and set their children to the best of all starts."
That is not to say however that we should simply accept the problems associated with daily commuting. Research published in the British Medical Journal claims that people who drive to work are generally less healthy and more overweight than those who get to work in other ways. The report also found that using public transport to commute may be just as beneficial to health as cycling. The report suggests that its results based on long term research with a sample of 16,000 people should have significant implications for Government infrastructure policy, urban design and individual workplace policies. "Policies designed to effect a population-level modal shift to more active modes of work commuting therefore present major opportunities for public health improvement", it concludes.
Meanwhile, a study from Canadian researchers published in the journal Science Direct claims that the mode of transport also determines how happy we are with the way we get to work. In this regard at least, the car wins out over some forms of public transport. The happiest commuters amongst the sample of 3,400 students and staff at McGill University in Montreal were, in order, walkers (85 percent), rail travellers (84 percent), cyclists (82 percent), drivers (77 percent), metro riders (76 percent), and bus riders (75.5 percent). Happiness levels were gauged on a scale that took into account subjects' perceptions of factors such as length of commute, comfort, safety, waiting, privacy and freedom from unwanted attention.
It may be an inevitable fact of life for many people despite the growth of agile working practices, but there's still work to be done on dealing with commuting's deprivations.
________________________________
Rush Hour, How 500 Million Commuters Survive the Daily Journey to Work
Paperback: 384 pages
Publisher: Head of Zeus (4 Jun. 2015)
Language: English
ISBN-10: 1781854084
ISBN-13: 978-1781854082
Also available in hardback and digital formats