September 11, 2013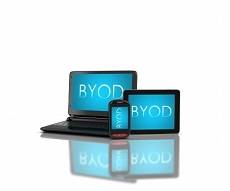 In the same week that Apple launches the iPhone 5S, over half (56%) of CIOs have said they allow employees to use their own smartphones in the workplace, and over three quarters (76%) of staff are allowed to use their own mobile data devices. While the research from Robert Half Technology found the biggest BYOD challenge is security, cited by over half (53%) of respondents, the Verizon 2013 Data Breach Investigations Report into global data breaches provides some reassurance that 86 per cent of cyber-attacks do not knowingly involve insiders. However lax internal practices, like copying data onto a USB drive or leaving a device in a cab does lead to security breaches, accounting for 41 per cent of cases of misuse.
"There are a number of factors leading to the growth of BYOD, from company cost savings to employee preferences for using their own device", said Phil Sheridan, Managing Director, Robert Half Technology."Consumer-friendly new technologies such as Apple's iPhone 5S, which launched yesterday has prompted my employees to rely on a certain level of productivity at work as they have at home. Only 24 per cent of IT directors in our survey said that they do not currently allow employee owned devices into the workplace, so the tide has clearly turned in favour of BYOD."
The most popular BYOD options are currently laptops (65%), smartphones (56%), USBs/memory sticks (51%), tablet computers (38%), external hard drives (27%) and iPods/MP3 players (19%).
While the widespread adoption of BYOD may increase an organisation's data vulnerability it's worth noting that according to the Verizon Report (which analyses more than 47,000 reported security incidents), social tactics — using email, phone calls and social networks to gain information on individuals —contributed to 29 per cent of cyber-attacks last year.
Verizon advises: "Your staff can also be your greatest asset. If you train them how to spot breaches and avoid social engineering approaches, they can be your first line of defence."
Click here to download the Verizon 2013 Data Breach Investigations Report.