June 24, 2021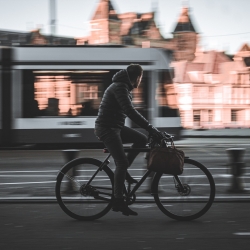 The commute as we knew it may be gone for good, claims new research conducted by DASH Rides. DASH and Sapio Research surveyed over 2,000 city-dwelling, full-time workers, who used to work primarily in the office and now work primarily at home and discovered that three quarters of those returning to the office will be actively avoiding public transport or seeking new ways to travel.
Time away from the office has given workers the chance to reflect on work and the impact commuting has on individual health and the health of the planet. Four in five respondents say the pandemic has made them reassess their travel footprint (why and where they travel), with a further 76 percent saying it has led them to look at new modes of transport – many of which they hadn't used before.
The research also claims that 80 percent of workers returning to the office want to travel to their workplace in a way that is better for their physical fitness, and the same percentage are looking to find greener and more sustainable ways to travel.
Key findings
• 74 percent of UK workers have been afraid or apprehensive about using public transport since the outbreak of COVID-19
• 75 percent of UK employees are more concerned about safe travel to and from the workplace than they are safety at work
• Three quarters of those surveyed do not want to return to the 'daily commute' as it stands in the way of their work-life balance (76 percent) and costs them too much money (75 percent)
• Over a quarter (26 percent) of respondents are taking up cycling or have increased the amount they cycle
Sustainable travel
Despite this apprehension around public transport and safe travel, the pull of the workplace remains. 85 percent of workers agreed that being physically present in the office when it opens will be a positive social experience, and four in five agreed that travelling to the office when it reopens and spending more time out of their home will be good for their wellbeing.
But only 25 percent of employees say their employer is actively helping them to put together a back to work travel plan despite three quarters feeling more concerned about safe travel to and from the workplace than safety in the workplace itself.
Three quarters (77 percent) of UK employees believe that employers should subsidise alternative modes of transport / routes into the office so that people can travel more safely and sustainably, 54 percent of whom claiming they would refuse to return to the office altogether if alternative travel is not subsidised.
"Our relationship to the daily commute has irrevocably changed"
Jamie Milroy, Co-Founder and CEO at DASH Rides, comments: "Our relationship to the daily commute has irrevocably changed and as businesses reimagine the office in a post-pandemic world, there's an increasing need to rethink travel to and from the office. Companies have a golden opportunity to help their employees configure a commute that not only improves their health, wellbeing and productivity but their environmental footprint too.
"Given 82 percent of UK workers would like their employer to use COVID as a catalyst to revamp their employee benefits, such as travel or cycle to work schemes, we're already seeing sustainable travel becoming central to the future of work."
Urban mobility
A positive side effect of the pandemic is that 51 percent of people have become more conscious about their personal health and wellbeing, with a quarter (26 percent) taking up cycling or increasing the amount they cycle. And that's a trend that's set to stay. 84 percent of those who cycled more during the pandemic would like cycling to become their primary mode of travel for work and for pleasure.
13 percent of respondents will be travelling to and from work post-Pandemic via bike and 5 percent by e-bike, which trumps e-scooters (4 percent), carpooling (2 percent) and taxi (2 percent). But with 31 percent planning to travel to the office by car when it opens again, and 29 percent continuing to use public transport, it's clear more can be done to increase Britain's pedal power and, in turn, minimise pollution, improve wellness and health.
Image by Vedant SHAH