September 2, 2021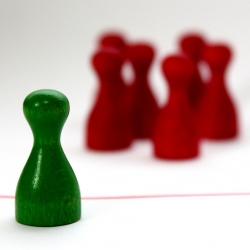 Culture in UK workplaces has come under scrutiny after a recent study claims that seven in ten (70 percent) Brits shared they've experienced toxicity in a working environment at some stage of their career.
The poll of 1,000 UK employees which was conducted by instantprint, also highlighted that more than half the nation (56 percent) said they were likely to quit their job if they felt workplace culture wasn't up to scratch.
This was especially true for female workers, with almost ten percent more (60 percent) stating they'd consider quitting, than men (52 percent). Key red flags for a toxic working environment included bullying (46 percent), passive aggressive communications (46 percent), cliquey behaviour (37 percent), and blatant favouritism for certain colleagues by those within a more senior role (35 percent).
Also scoring highly on the list of toxic traits was gossip and rumours (35 percent), whilst a further third (32 percent) also agreed that a lack of clarity or poor communication around projects and outcomes is a major warning sign for bad company culture.
Work-life balance is an ongoing talking point amongst UK workers, however, this was raised as a concern for less than a third of women surveyed (29 percent) and just a quarter of men (25 percent).
Further findings
For men, bullying was the biggest red flag for a negative office experience (43 percent), whilst comparatively, women were more likely to be disheartened by passive aggressive comms (50 percent).
Cliques at work were also a no-go for women (43 percent), with a third (33 percent) of men also in agreement. Gossip and rumours too were deemed to be an absolute no for forty percent of women, and also for almost a third (30 percent) of men.
Naturally, certain industries were revealed to be more toxic than others, with marketing, PR and advertising claiming top spot for the worst company culture (88 percent), followed by environment and agriculture (86 percent), healthcare (81 percent) and charity and voluntary work (76 percent). Comparatively, the least toxic industries were revealed to be science and pharmaceuticals (46 percent), property and construction (55 percent) and media and internet (57 percent).
"Poor communication around projects and outcomes is a major warning sign for bad company culture."
Bullying seems to be least tolerated in the law enforcement and security industry with 67 percent claiming this was the worst toxic trait in the workplace. However, a mere 14 percent of those working in the media and internet business would deem bullying as a toxic behaviour.
When examining demographic data, Newcastle (6.7) was voted as the most toxic city to work in, followed by Leeds and Sheffield which each scored 6.8 out of 10, with 10 being the most toxic. The healthiest work cultures are in Southampton, as residents of this south coast city scored their current workplace at an average of 7.8.
Head of instantprint Laura Mucklow commented on the survey findings: "Working through the pandemic has forced many of us to take a step back to reflect on what's really important to us, and whether or not the values of our employers match our own.
"The stats revealed in this study should prompt companies whose focus on workplace culture might have taken a backseat over the past year and half to reassess their people strategy, establish clear goals and encourage positive and professional communication to maintain a healthy and productive environment for the whole team."
Image by tillburmann