April 10, 2014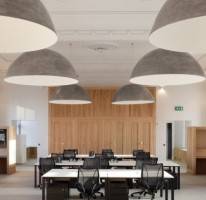 The UK rail industry has a somewhat ambiguous relationship with the idea of remote working. While the business case for the controversial HS2 rail line was until recently predicated on the remarkable assumption that people don't work on trains (now replaced by another set of assumptions to get to the numbers it needs for politicians to go along with it all), the number of journeys people make on trains has been increasing steadily for some time, regardless of the potential for technology to make many of those journeys unnecessary. So while we're already into uncharted territory in our ability to forecast the impact of new technology and working practices on the need for physical presence, the train and the rail network  does offer us a touchstone for thinking about it. And what we find in that respect is a blurring of the lines between several worlds, as we do in pretty much every aspect of our lives.
One manifestation of this is evident in the announcement from Network Rail (until recently happy to go along with the 'nobody works on trains' schtick) and serviced office provider The Office Group that the joint venture they formed in 2011 is to open a further three drop-in workspaces across the UK network this year, following the successful launch of an office at Paddington station (above) in mid-2012. The new sites being developed at King's Cross, Leeds and Liverpool Street stations will provide an additional 50,000 sq ft of space and will be complete sometime later in the year. Of course, they're competing with coffee houses, benches, pubs and whatever so as well as offices there are  meeting rooms and drop-in spaces, known as ClubRooms as well as access to other services and other serviced office locations.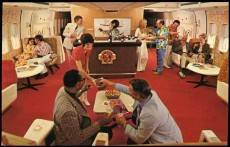 What these spaces also convey is that the UK rail firms prefer to compare their services to air travel rather than cars. This is not only apparent in the plans to site many of HS2's stations away from city centres, as you would an airport, but also explicitly outlined in the press release announcing the new serviced offices: 'The Station Office Network provides commuters with shared or private working areas similar to airport business lounges, with stylish meeting rooms, superfast broadband and receptionists to handle mail, telephone and switchboard enquiries.'
The same comparison with air travel carries over into designs for the next generation of trains, albeit based on a vision that draws its inspiration from the Martini-swilling first class lounge of a 1960s Pan-Am 747 with the off chance you'll bump into Dean Martin rather than the cramped, farty fug of a 21st Century Ryanair 737 in which you're more likely to encounter a hepped-up hen party from Stoke on its way to Krakow. The future of work was always better in the past.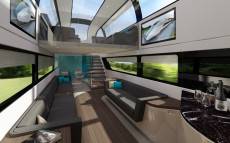 One of the world's foremost designers of the next generation of high speed trains is the British based firm PriestmanGoode. Their 2012 designs for the trains that will work on the UK high speed network make the same connection between air and rail travel and indeed the firm has a great deal of experience designing for both. PriestmanGoode's concept of double-decker Mercury trains offers lounges in first class (left) and offices in standard class (below right), although it's unlikely double-decker trains will run on the network based on current plans.
Away from the heady world of high speed rail, RIBA Competitions is also on the lookout for designs for the next generation of trains. It has invited architects, engineers and designers worldwide to enter its Tomorrow's Train Design Today competition, run jointly with sponsors from the rail industry, the Future Railway industry body and the Department for Transport (DfT).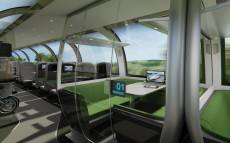 The competition is two-fold with entrants asked to consider two possible challenges. The Next-Gen Train challenge is looking for new ideas for interiors that can be fitted to existing trains as well as reducing 'dwell times'. Meanwhile  the 4Cs Train challenge is looking for designs that 'push the envelope'. The 4Cs themselves are cost reduction, capacity improvement, carbon reduction and customer experience.
It is this last area, the battle for hearts and minds, that is perhaps most intriguing. Here we can see the confluence of the physical and virtual worlds that makes the idea of work and workplace so complex. Here we can see how an uncertain future, shaped by the seismic and rapid disruptions of technology must be resolved in physical designs that mutate at a much slower rate.  And it is a sign of the world in which we now live that the design of trains is almost as great an indicator of workplace thinking as the office itself.