October 26, 2016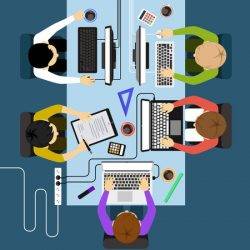 Despite half (50 percent) of the British workforce saying they are equipped with the right tools and technology to enable them to work anywhere, half (50 percent) of respondents to a new survey stated that remote working can make them feel stressed, isolated or lonely (43 percent) and over half (53 percent) said that working out of the office makes them feel disconnected from colleagues. The survey from Peldon Rose, found that two-thirds (66 percent) of British workers say they work most productively in the office compared with a quarter (26 percent) who work most productively at home. The survey results also underline how vital close working relationships with colleagues are to employees' happiness, wellbeing and productivity with nine in 10 (91 percent) of office workers stating they value their friendships within the workplace and 80 percent crediting their friendships with colleagues with helping them to be more productive at work – something they feel boosts their productivity even more than personal technology (66 percent).
Less than 1 percent (0.74 percent) of those surveyed feel they work productively on a train and taking a laptop to a favourite coffee shop may be a thing of the past, as only 3 percent feel they work most productively in a café.
The research also suggests that collaborative workspaces helps workers to bond with their colleagues with half stating that open plan offices (53 percent), informal break-out areas (50 percent) and communal social spaces (49 percent) are important to building and maintaining these vital relationships. Good IT infrastructure (83 percent) is important for increasing productivity in the workplace along with quiet zones to concentrate (69 percent), informal break-out areas (67 percent) and personal technology (66 percent)
The report makes the following recommendations to tempt workers back to the office:
Hybrid workspaces: workplace design needs to put the employee at the heart of the office and ensure it incorporates the modern workers' desire for flexible spaces, including collaborative working zones, quiet spaces and more personalised areas to work – with the majority of workers (55 percent) saying that they wish they were more trusted to manage how and when they work, this flexibility should be a critical concern for businesses.  The future office will see more 'hybrid workspaces', with moveable furniture, couches and private booths to add variety and individuality to previously featureless open-plan offices. These spaces not only serve as oases for concentration and quiet work, but as peaceful retreats in the busy, always-on working world – an important safeguard for employees' mental health and wellbeing.
The at-home office: providing home comforts at work is vital to boosting productivity and the ideal for the future is that workers will  hardly be able to distinguish their office from their home. Fully-fitted kitchens, coffee and juice bars will increasingly be the norm, as will shower rooms, while taking a 'power nap' in a sleeping pod or nap room will be part of the new office culture. And if workers still need to relax then rooms decked out like a garden to boost oxygen levels and improve mood will be on hand.
Technical innovation: ensuring the future office is completely connected and wired for all devices, equipment, facilities, power, heat and light will be a hygiene factor.  While technology will keep making us faster and more efficient, the technology of the future will increasingly be about building back communities in the workplace and breaking down the silos that it was partially responsible for building.  To build and maintain a dynamic, connected workplace there will be widespread use of personal tele-/video-conferencing on lighter, smarter, faster mobile devices, with apps such as Ovoo. Beacon technology for sharing information with nearby devices in the workplace will become commonplace and there will be greater use of workplace social media e.g. the Yammer app to drive communication and collaboration between colleagues.
The playground office: with workplace friendships critical for office wellbeing and productivity businesses will need to provide the time and place to encourage team bonding and ensure there is fun to be had at work.  Two-thirds of workers think social events help them to bond with their colleagues and facilities encouraging a bit of down time, such as slides, aquariums, table tennis, games and music rooms will increasingly be seen as the norm rather than the exception.
Jitesh Patel, Chief Executive, Peldon Rose, said: "The survey findings reveal that the remote working trend has come full circle.  Office workers are clearly seeing the personal and professional benefits of working alongside colleagues and the drawbacks of isolated working, and they are virtually and physically returning to the office."