November 12, 2018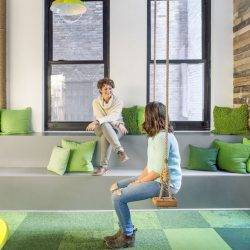 New research carried out by HR consultant AdviserPlus claims that two thirds of HR professionals say that a poor workplace environment can 'substantially' contribute to sickness levels. The survey, which asked 300 HR professionals their opinions on the state of absenteeism in the UK, found that factors such as lifestyle and environment played a big part in the levels of absence in their workplace. Absenteeism is said to cost the UK economy £18 billion a year, and an average sick day costs a company around £100 a day.
In order to reduce rates of unauthorised absence, 91 percent of respondents believe businesses should be more proactive in promoting a healthy lifestyle to employees whilst 87 percent said that flexitime could also reduce this number.
A good workplace environment could also have added benefits on top of solving this issue. Whilst a bad environment might discourage employees from coming to work, a good environment might not only help to avoid this sense of discouragement but also act as an encouragement, giving workers something positive and purposeful to go to.
The survey also claims:
–   Almost one in five (18 percent) respondents said that the average employee in their business has seven or more sick days a year (the national average is 4.1)
–   59 percent of respondents say employees take more sick days than they did a decade ago –  even though this fell from 5.6 per employee in 2007 to 4.1 in 2017
–   More than half (53 percent) say they feel tech could do more to help them monitor absenteeism