February 14, 2017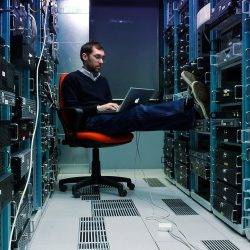 The UK 'cyber workforce' has grown by 160 percent in the five years to 2016, according to new Tech Partnership research. Around 58,000 people now work in cyber security, up from 22,000 in 2011, and they command an average salary of over £57,000 a year – 15 percent higher than tech specialists as a whole, and up 7 percent on last year. Just under half of the cyber workforce is employed in the digital industries, while banking accounts for one in five, and the public sector for 12 percent. The figures, derived from analysis of bespoke data from IT Jobs Watch and supporting information from the Office of National Statistics' Quarterly Labour Force Survey, are published in the Tech Partnership's most recent Fact Sheet, Cyber Security Specialists in the UK.
Reflecting on the figures, Tech Partnership CEO Karen Price points to the urgency of sustaining the UK's cyber capability. "In today's data-driven world, nothing is more important for UK businesses than maintaining security. Developing the skills to protect ourselves is a national priority, and needs action at every level: at schools and universities, through digital apprenticeships, and through upskilling for experienced professionals. Employers are joining forces to make a difference in all these areas, and are working with Government to ensure that we have the skilled people we need to maintain our leadership position in cyber security, and operate safely in the global tech environment."
Looking at the detail of demand for digital specialists – based on advertised vacancies over the period – almost 7,000 roles have been available in each quarter of the last year. This is up 18 percent on last year, and has doubled (+106 percent) since 2011. Mirroring the strength of the banking and tech industries in London and the South East, demand is strongest in these regions: 61 percent of advertised vacancies are based in and around the capital. However, cyber roles are growing in all UK nations and regions, with the highest figures recorded in Wales and the East Midlands.
Prospective cyber security professionals should note that five occupational groups make up three quarters of all jobs posted: Security Analysts, Security Consultants, Security Engineers, Security Managers and Security Architects. The best paid cyber specialists are Security Architects, reflecting their high levels of experience and expertise. They command average annual salaries of over £70,000, and while they represent only 11 percent of the profession, demand for their skills has grown by 269 percent over the last five years.
The core process and methodological skills in demand have remained constant over the last year: Information Security, Firewall and Network Security are most often called for, featuring in 84 percent of all job advertisements. However, there are large increases in demand for some more specialist areas, with cybercrime up 264 percent and big data up 202 percent. Certifications remain important as a guarantee of knowledge: CISSP and ISO/IEC 27001 feature in almost one third of all job advertisements.