May 2, 2013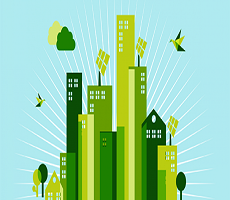 The built environment is an engine for green growth and UK Green Building Council (UK-GBC) intends to demonstrate how, says the sustainable buildings campaigner today as it outlines specific areas of focus to promote green building over the next 12 months. This follows the publication of its Impact Report earlier this week which reflected on some of its key initiatives over the past year, including the launch of Pinpoint, a new search engine for information on green building, the publication of a plan for growth strategy and its work to influence  government policy regarding the built environment.
For the coming year UK-GBC says it will concentrate on a number of specific policy areas including, making the case for the Government to commit to the timeline on zero carbon homes and commercial buildings; supporting the successful implementation of the Green Deal; working to introduce domestic and non-domestic Minimum Energy Performance Standards (MEPS) and informing the Government on implementation of the EU Energy Efficiency Directive.
The UK-GBC says it will continue to lead industry action on sustainability in the built environment by establishing Pinpoint as a key resource for industry: "Increasing the number of resources on offer, encouraging take-up and improving the website's usability. We will work closely with our members to improve their sustainability performance and enable them to demonstrate their commitment to our mission."
Launched in early March 2013 Pinpoint is an independent, free to access online platform which points built environment professionals towards the best available resources to help make projects, organisations and products as sustainable as possible. Covering all sustainability topics, right across the built environment, it also provides peer reviews from industry professionals and allows users to upload resources themselves.
The UK-GBC also pledged to continue to be a leading provider of sustainability education in the built environment sector, with a second cycle of its Green Building Series beginning in September and the launch of a new Future Leaders programme later in the financial year.
By Sara Bean