June 24, 2016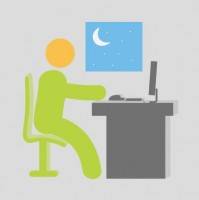 Flexible working doesn't necessarily translate to spending less time at work, as the prediction that technology will enable workers to enjoy more leisure time fails to materialise. A new survey has revealed that nearly nine out of ten British workers failed to take all of their holiday allowance last year, with almost one in 200 missing out on more than ten days of paid leave. In some cases, that meant workers missing out on as much as £675 of annual leave, according to Voucherbox. Meanwhile, a survey commissioned by The Workforce Institute at Kronos has revealed that the practice of working outside standard contracted hours is so ingrained in American culture that a majority of full-time salaried employees in the US would work off-the-clock even if it was against company policy. As the line between work and life continues to blur, 81 percent of US salaried employees report that they conduct work outside of their standard hours.
Over a quarter (29 percent) admit they conduct work outside of standard work hours three or more days per week, while 16 percent confess to being workaholics who put in extra hours five to seven days per week.
The UK study, which looked at British workers' annual leave entitlement, found that 43 percent don't take their full allowance because they are simply too busy to do so and that over half are entitled to more than 25 days of paid holiday per working year, with 7 percent reaching the end of the year with at least half their allowance untaken. More than a third of were unable to carry over remaining holiday days to the following year or sell it back to employers meaning that 35 percent of Brits had to simply lose their annual leave.
This resulted in their losing out on an average of £674.60p* a year. The top reason workers gave for not taking their full holiday entitlement was that almost half felt that their work place was too busy and therefore felt they couldn't book any time off whilst one in ten said that they had holiday requests denied by their bosses.
A whopping 81 percent admitted to working up to nine hours' unpaid overtime each week, effectively missing out on a further £434.40 in unpaid labour. And 18 percent currently have more than half their holiday allowance left for 2016 despite the fact that we are half way through the year.
Shane Forster, Voucherbox UK Country Manager stated: "We've seen a pattern where people are feeling too busy or guilty to take time off from work and are not only missing out on rest but potentially hundreds of pounds in lost holiday entitlement and through unpaid overtime."
This penchant for working above and beyond their statutory limit is echoed in the US Workforce Institute study, which found the primary cause for working beyond standard work hours, is that they simply have too much on their plates. However, that's not the only reason:
For 40 percent of salaried employees who claim to work beyond normal work hours, a heavier-than-usual workload was cited, while 37 percent needed to meet an urgent deadline.
Nearly one-third (31 percent) feel they have too much work on an ongoing basis to complete it all during their work day.
However, 27 percent state they work outside of work hours because their employers offer that flexibility.
Additionally, 17 percent reported that they prefer to work outside of normal work hours to get things done, and 15 percent stated they preferred to work after hours to prepare and stay organized.
The ubiquity of mobile phones is the primary reason employees simply can't unplug, and the adoption of text messaging for business has become commonplace. More than half of all employees (55 percent) who conduct work outside of standard work hours blamed checking and / or sending work email.
While phone calls may be falling out of favour as a form of communication, 24 percent reported speaking on the phone with colleagues, clients, or customers outside standard work hours.
Text messaging is joining the ranks as a tool to do business, with 23 percent of salaried employees admitting they send after-hours work texts to colleagues, clients, or customers.
One reason for this may be that 18 percent of full/part-time employees reported that they don't consider it "work." That's slightly ahead of work email (17 percent), and well ahead of a telephone call (10 percent).