September 24, 2020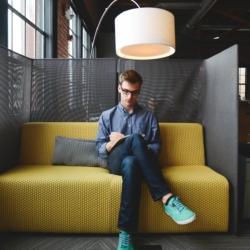 Employees are longing for purposeful and visible changes to increase safety measures in the office, according to a new survey of 2,000 people from NELSON Worldwide. This is top of  people's minds in order to assure that re-entry in the workplace is safe, according to the firm. Whether this is carried out by means of wayfinding, increased sanitation protocols, or direct implementation of distancing in workstations, staff are eager to see the action carried out. The survey concludes that 83 percent of employees have rated physical safety measures to be extremely or very important.
In addition to direct action, the second key finding emphasizes a tension between wanting to return to the office and anxiety over health and safety. From those surveyed, 54 percent reported to have a desire for resuming their day-to-day routines of attending the office. On the other hand, 51 percent have reported to have at least some concern over health and safety as they make their return. Though the results are split almost evenly, those feeling anxious, stressed, and generally uneasy, are looking to company leaders to provide answers.
"As offices slowly reopen, executives will have to take into account employee concerns and new expectations regarding personal space and social distancing concerns," said Barbara Riekse, Workplace Practice Leader at NELSON Worldwide. "Our goal has always been to create built environments that put occupants at the forefront and foster a culture of accessibility and safety for all. Through this survey, we hoped to provide insight into reopening strategies that highlight flexibility, resiliency, community, culture, and employee safety."
"Designers and architects have an obligation and commitment to create spaces that support wellbeing"
The last key finding of the survey suggests that people are craving clear, consistent, and reassuring communication to reduce anxiety around the return to the office environment. Returning to the office will require transparency in efforts to provide safety, but also a renewed focus on communication of the purpose and mission behind companies. Communication is the key to easing frustrations, concerns, and fears associated with the unknown. Data collected from the survey claims that 81 percent of staff rated clear communication as extremely or very important – emphasizing the greater need to diversify all communication channels.
"If a global pandemic has taught us anything, it's that designers and architects have an obligation and commitment to create spaces that support wellbeing," Riekse adds. "The study revealed that the human element needs to be reintroduced to our built environments as we transition back into the workplace."
Image by StartupStockPhotos