February 12, 2016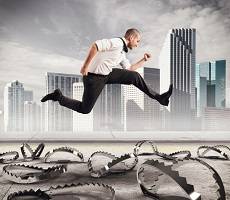 The two most common factors influencing work related stress levels are unpredictability (26 percent) and workplace environment (21 percent) according to a poll by US jobs site CareerCast.com. The results, based on 834 respondents found that most of the respondents (62 percent) rated their jobs as highly stressful, while just 11 percent felt the amount of stress on the job was low. Other key stressors were deadlines (20 percent) and safety of others (16 percent). Interestingly, few people felt that length of work day/week (7 percent), personal well-being in danger (5 percent), potential for promotion (3 percent) and travel (1 percent) were major job stressors. Any number of factors can contribute to an unpredictable workplace; either the flow of responsibility changes from day-to-day with new tasks added or changed at random intervals or expectations may change. Running a close second is the workplace environment and culture, which includes interactions with bosses, co-workers and clients/customers.
This is The information gleaned in the poll, when broken out by industry found that those in academia (40 percent), engineering (33 percent), and customer service (30 percent) rated unpredictability as their top stressor, while only 15 percent of those in transportation found unpredictability to be a stress factor at work.
Not surprisingly, ensuring the safety of others was the biggest stressor for transportation (41 percent) and healthcare workers (50 percent). Professional/business services workers rated deadlines at the most stressful part of their job (31 percent). Those in information technology said workplace environment was their biggest stressor (30 percent) and deadlines were the highest rated stress factor in the entertainment field (33 percent).
Measuring the stress score revealed that professionals are often very stressed in their careers, or don't consider their jobs stressful at all, with a marked lack of a middle ground.
An overwhelming 90 percent of all surveys came from full-time employees, while 6 percent are employed part-time and 5 percent are consultants. The split of men and women was almost equal; 50.3 percent of surveys came from men, 49.7 from women. Age range representation was divided equally well, with 34.8 percent of surveys coming from workers 51-70; 33.1 percent from those 36-50; and 29.4 percent from those 19-35.