August 9, 2023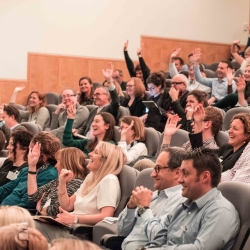 In the ever-evolving discussion around the landscape of work, one established industry event stands as a beacon of knowledge and innovation for workplace professionals: the Workplace Trends Conference. The 2023 conference on 18 October, in London and online, promises a day of enlightenment, inspiration, and connection that's not to be missed. Workplace Insight is pleased to be a media partner for Workplace Trends Conferences. Our readers may claim a 20 percent discount on their ticket price by using promo code INSIGHT20 when registering at https://workplacetrends.co/events/wt23/
The Workplace Trends Conference is a convergence of brilliant minds and an invaluable platform to explore the future of work. Aimed at workplace professionals striving to design, manage, and nurture modern, attractive, productive, and healthy workplaces, this year's event promises to be the most captivating yet. With themes ranging from "The Appeal of the Office" to "Designing and Managing for Neurodiversity," the conference delves into the pressing challenges and opportunities that define the contemporary workplace.
Unveiling unseen realities
One of the highlights of the event is "The Appealing Office," presented by environmental psychologist and workplace strategist,  Nigel Oseland. Along with psychologist Prof. Gary Raw, Nigel has partnered with MillerKnoll and Workplace Trends to uncover the allure and allurements of working from home versus working in the office. Results from their recent research is paving the way for insights that will redefine our understanding of working environments and inform the industry's evolution.
Trailblazing thought-leadership
Join Chris Kane, author of "Where is My Office," as he challenges the status quo and ignites discussions about the future of the office sector. Chris explores whether the industry is ready to embrace transformative change akin to the evolution of car manufacturing from ICE to Electric cars. His session promises to spark conversations about reimagining office spaces, funding, design, and operation through a sustainable and forward-looking lens.
A spectrum of innovation
Jennifer Bryan, of ABChange Consultancy, invites you to explore the intersection of foresight and people-centric change. Jennifer's research project, undertaken with diverse organisations, offers a roadmap to navigate the ever-changing landscape with insight, foresight, and innovation.
Unlocking neurodiversity
Josh Artus of Centric Lab brings a fresh perspective on neurodiversity in "Designing for Neurodiversity." With insights into a justice and equity-based approach, Josh introduces holistic solutions that empower neurodiverse individuals in the workplace.
Embrace diversity and innovation
Tree Hall, the Neurodivergent CEO of Charity IT Leaders, shares her inspiring journey and advocates for a more inclusive workplace. Her personal presentation promises to reshape perceptions and ignite discussions about embracing neurodiversity.
A creative hackathon energiser
Don't miss Perry Timms, a celebrated HR thinker, who introduces an energising post-lunch hackathon session. Be part of a collaborative experience that breathes life into innovative solutions, all while avoiding the dreaded post-lunch slump.
Building sustainable workplaces
Ann Beavis, of Crown Workspace, takes the stage to explore "Circular Economy Thinking for the Workplace." Discover how to integrate circular economy principles into the workplace, driving sustainable and environmentally conscious change.
Unlocking insights from Government Property Agency
The Government Property Agency is leading the charge in transforming workplaces for civil servants. Learn how their customer experience strategy is driving meaningful change and discover the transformative power of workplace communities and networks.
Lessons from transformation
Diego Henriques of Anglo American De Beers and Jamesina Sainsbury of MCM present a riveting tale of transformation in "Our New Offices are Wonderful, but We Don't Have Enough Desks!" Discover their journey, successes, and the invaluable lessons they've gleaned along the way.
Your gateway to innovation and insight
Workplace Trends 2023 is a unique opportunity to connect with fellow professionals, absorb cutting-edge research, and gain access to invaluable insights that can revolutionise your workplace strategies. With a non-commercial and relaxed environment, this conference offers quality presentations and a chance to network with thought-leaders. As a cherry on top, you'll receive delegate access to video recordings after the event and a chance to unwind at the complimentary post-event drinks social.
Don't miss your chance to be part of this transformative experience. Register with your 20 percent discount (use promo code INSIGHT20) at https://workplacetrends.co/events/wt23/ or to go direct to the ticketing page visit https://www.tickettailor.com/events/workplacetrends/923660
Secure your seat now and embark on a journey towards a brighter, more progressive workplace.