August 9, 2023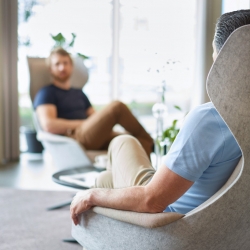 The key driver for employees wanting to go into the office is the need for socialisation and collaboration, according to the latest quarterly Workplace Index from Eptura. The report claims that this is an acknowledgement of the desire to be part of a community and the potential isolation of working at home.
The report is based on proprietary data including an analysis of 2.7 million desks, 37,000 buildings, and 440,000 floors across more than 8,000 companies as well as a survey of 6,700 employees on workplace attitudes and behaviors. Additionally, the survey included senior managers, middle managers, and individual contributors at businesses with at least 1,000 employees or more. Respondents came from the United States, United Kingdom, France, Germany, and Australia.
The report follows on from the Q1 Workplace Index across the competing priorities  organisations are navigating in today's workplaces including finding the balance between employee freedom and the desire for connection.
"Facilities and asset managers continue to face significant challenges to identify the right workspace mix for employee needs while keeping their real estate and building systems running efficiently," said Brandon Holden, CEO of Eptura. "We hear this from our customers worldwide, particularly as employee behavior continues to reinforce the need for flexibility. For organisations to make better investment decisions on their building assets, they must look beyond siloed data sources. Our quarterly Workplace Index analyses operational data and qualitative feedback to uncover the macro trends that help inform long-range business planning."
Connection
According to the report, employees recognise the need for balance, acknowledging the isolation of working remotely and the need for social interaction. Asia-Pacific (83 percent), Europe, the Middle East and Africa (70 percent), and the Americas (84 percent) all saw significant year-over-year increases in desk bookings in Q2 2023.
According to the survey, senior managers and middle managers both rank collaborating with colleagues highest when asked what they appreciate most about going to the office. While socializing with friends and colleagues does not feature in senior managers' top three motivations, it is the second-most important factor for middle managers. Individual contributors clearly crave connection, ranking socializing with friends and colleagues as their number one priority.
When asked where they like to work when in the office, 47 percent of survey respondents say they like to be near their team. This highlights that physical proximity to colleagues has a value beyond what employees feel they can achieve virtually. Matching this trend, meeting room bookings continued to increase steadily across regions and industries, pointing to an increased desire for connection and collaboration in the workplace. Year over year, APAC room bookings increased by 67 percent in Q2, EMEA increased by 57 percent, and the Americas increased by 48 percent.
Employee flexibility leads to workspace uncertainty
The report argues that workforces want full autonomy in choosing when they go into the office and the type of work they do there. While this fluidity is broadly welcomed by many companies, it affects the facilities management and corporate real estate teams who must plan around erratic demand for workspaces and variable occupancy rates.
The report found that roughly a third of employees (33 percent in the Americas, 34 percent in APAC, and 31 percent in EMEA) book desks the day before or on the day they go into the office, resulting in much more complex planning for facilities managers. This highlights the need for  organisations to marry their employees' desired workstyles and the need for predictability to paint a clearer picture of how a rising in-office population uses the modern workplace.
Cross-functional approach needed for facilities management
The authors of the report also suggest that many companies are stuck at a crossroads – how can they optimise business premises to attract employees and visitors while simultaneously lessening burdens on the bottom line? While the report shows that monthly equipment inspections are rising month-over-month corresponding to more people being at the workplace, daily maintenance work orders closed tend to peak at the start of the week, with daily inspections peaking in the middle of the week.
The report claims that to meet increased cost pressures, organisations must move away from siloed responsibilities to a cross-functional approach. Facilities and asset managers, who traditionally work behind the scenes, need to work closely with front-of-house leaders to combine data analysis and decision-making. This will help companies efficiently manage assets and real estate portfolios to match demand while ensuring a cost-effective work experience that attracts employees to the office.
Flexible work patterns lead to flexible footprints 
The report also argues that business leaders are under immense pressure to reduce their CO2 emissions, especially with buildings accounting for 39 percent of global carbon emissions. However, leveraging flexible work patterns to optimise building systems — such as turning off lighting, heating, and cooling in targeted areas when not in use — offers less expensive ways for businesses to cut their carbon footprint.
By focusing on preventive rather than corrective maintenance, companies can make gains that can result in a significant reduction in CO2 emissions. While the ideal ratio of preventive to corrective maintenance is roughly 4:1, Eptura Q2 data shows a ratio of 4:7, meaning that for every four work orders planned, maintenance is responding to more than seven break-fix or other ad hoc ticket requests. By shifting the balance of maintenance activities from unscheduled to scheduled, organisations can optimise work based on building occupancy to meet sustainability goals.