June 7, 2017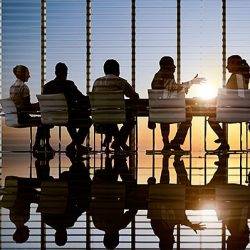 Women are still largely under-represented on corporate boards worldwide, despite continued efforts to improve boardroom gender diversity, according to the fifth edition of Deloitte Global's Women in the Boardroom: A Global Perspective publication explores the efforts of 64 countries to promote boardroom gender diversity. The report claims that women hold just 15 percent of board seats worldwide. These numbers show only modest progress from the 2015 edition of the report. In the UK, there are no quotas in place for women on boards, but 20 percent of board seats and 3 percent of board chair positions are held by women. Among companies that make up the FTSE 100, 26.2 per cent of board seats are held by women, more than double the 12.5 per cent recorded as recently as 2011. In that year, 21 FTSE 100 companies had all-male boards. That has now been reduced to zero, the Deloitte study shows.
Worldwide, 15 per cent of board seats are held by women, a modest increase from the 12 per cent reported in 2015. In the US and Canada, only 14 and 18 percent of board seats respectively are held by women. And the percent of female board chairs has not progressed, remaining at just under 4 percent in the US and dropping to 5 percent in Canada.
According to the study, in Latin and South America overall, only 7 percent of board seats are held by women and 2 percent of board chairs are women.
Norway, the first country to ever introduce a gender quota, has the highest percentage of board seats held by women (42 percent). 7 percent of board chair positions are held by women.
At 8 percent, gender diversity in some of Asia's leading economies is the lowest compared to other parts of the world. Only a few countries in the region have quotas or other approaches to address the issue.
One of the more intriguing results of the report is that companies with a chairwoman or female chief executive are making greater strides towards having more women in the boardroom and have almost twice as many women directors as corporations led by men.