August 26, 2015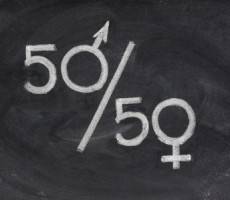 Women managers are effectively working for free nearly two hours every day, according to a report into the gender pay gap from the Chartered Management Institute and Xpert HR. The report draws on a survey of 72,000 UK managers published which found that women working in full-time roles earn 22  percent less than men, which the authors claim means they are 'unpaid' for 1h 40m a day. According to the analysis of the data from the 2015 National Management Salary Survey, for men and women of all ages and in all professional roles the pay differential now stands at an average of £8,524, with men earning an average of £39,136 and women earning £30,612. In 2014, the gap stood at £9,069, or 23 percent. The difference rises to £14,943 for senior or director-level staff, with men earning an average of £138,699 compared to the average for women of £123,756.
Women managers also earn less in bonuses, with the average man's bonus of £4,898 almost twice that of the average woman's bonus of £2,531.
The survey data also confirms that the differential increases as women grow older. Women aged 26-35 earn an average of 6 percent less than men in full time jobs, rising to 20 percent for women aged 36-45. The gap increases to 35 percent for women aged 46-60. For women and men in their 60s the pay gap expands to 38 percent.
This finding chimes with Government data published earlier this year which found that across the whole working population, women under the age of 35 actually earn more than their male colleagues in the same roles, but that the pay gap then flips.
According to the CMI study, there are also fewer women than men in executive positions. Even though women comprise 67 percent of the workforce in entry-level roles, and continue to outnumber men in junior management roles, female representation drops to 43 percent at the level of senior management. Just 29 percent of director-level posts are held by women. In March, the publication of Women on Boards: Davies Review Annual Report 2015 revealed that the number of women holding board-level positions in FTSE 100 companies reached 23.5 percent – just short of the 25 percent target.
In other findings, the pay gap is widest for employees of organisations with between 250 and 999 staff, with women earning on average 27 percent less working for these employers. New legislation coming into force in 2016 will require organisations with 250+ employees to report publicly on what they pay male and female staff. Over 7,850 organisations, which collectively employ more than 11.2 million staff (40 percent of the UK's workforce), will be affected by the new legislation.
The lot of older female employees is also the subject of a new study from serviced office provider Regus. According to a study of more than 44,000 senior managers in one hundred countries worldwide, one in eight believe that flexible working is key to attracting and retaining women workers and  83 percent see flexible working hours as key to getting mothers back on the job market.