March 11, 2020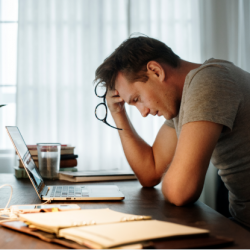 Perkbox commissioned a new study of 1,815 employed people to present a examination into the changing landscape of work-related stress in 2020. The study compared results to 2018 data in order to identify how sources of work-related stress and the solutions offered by employers are changing. The study claims that 79 percent of adults in employment commonly experience work-related stress.
Compared to 59 percent in 2018, this suggests that work-related stress is on the rise. Just 1 percent state that they 'never' experience this, while 17 percent 'rarely' do.
In order to help develop ways to battle the problem, the study looked into which causes of stress in the workplace are most prevalent today. In 2018, the number one cause of work-related stress was 'long working hours'. In 2020, it appears that many workplaces have become aware of the impact of this and have reduced the problem. 'Long working hours' has now dropped to 7th most common cause of work-related stress.
In contrast, the number 1 cause of work-related stress is now 'work-related office politics' – with 37 percent commonly experiencing this issue. Following recent scrutiny and growing awareness of toxic work environments, 'office politics' clearly presents itself as a pressing issue for HR strategies in the upcoming year. The second most common cause of work-related stress was found to be 'lack of interdepartmental communications' (34 percent) – highlighting another area of improvement for HR and business leaders.
Innovation in methods of stress reduction is an area that we expect to grow in the coming years.
Other common concerns are 'own work performance' which may display a call for training around self-confidence or prevalence of imposter syndrome in the workplace, followed by concerns of 'company's performance as a whole' and 'concerns about the work performance of others'.
The results also suggest that workplaces are taking action. The amount of employees with workplaces that don't offer any measures to help manage stress has more than halved since 2018. None the less, almost 1 in 5 workers still state that their work has nothing in place to deal with stress.
The most common method to help manage stress remains unchanged. Working from home policies are still the most popular way that workplace leaders attempt to assist their employees' work-life balance, but positively, the amount of workplaces offering this benefit has risen from 21 percent in 2018 to 39 percent in 2020. Other popular policies to manage stress include flexible working hours, regular one to ones between employees and managers, and counseling services for staff.
Despite this positive movement, stress levels are still on the rise. Begging the question of if more innovative methods for stress reduction are required – such as stress management or resilience training, which just 11 percent of workplaces currently offer. By developing the tools that employees can use to handle stress – workplaces can not only improve the wellbeing of their workforce, but they can also improve the productivity and engagement levels within the company. Innovation in methods of stress reduction is an area that we expect to grow in the coming years.
Top 10 causes of work-related stress
1. Work-related office politics
2. Lack of interdepartmental communications
3. The work performance of others eg junior members of the team
4. My own work performance
5. Customer/client satisfaction levels
6. Tensions with senior members of staff/managers
7. Long working hours
8. Poor company culture
9. The company's performance as a whole
10. Other
Most common measures in place by companies to help manage workplace stress
1. Able to work from home
2. Flexible working hours
3. Regular one to ones between employees and managers
4. Counseling services for staff
5. Events to build workers social networks
6. Stress management and/or resilience training
7. My company has no measures in place
8. Maximum cap in working hours
9. Other
10. Ban overtime