November 2, 2020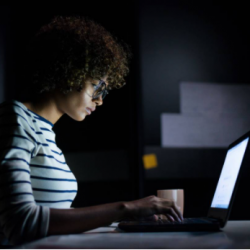 Millions of Brits give up more than a month of time each year by working additional unpaid hours, totalling five years overtime in their working life, according to new research by Hitachi Personal Finance. In a poll conducted for this year's National Work Life Week, data suggests how much time Brits are spending working past their contracted hours and what else the nation could be doing with this time.
In total, the figures claim that Brits are working 1,834 days – or five years – unpaid across their working life, just by starting work early and finishing late. That's an extra 42 days each year. The research suggests that nearly half (49 percent) of British people start work early each day and 48 percent admit to working late every day.
Looking more closely at those who are commencing work before their official start time, a third (32 percent) are working an extra 147 days in their lifetime by getting to the office or logging on at home 20 minutes early each day. Additionally, 15 percent of Brits are working an extra 330 days – that's nearly a whole year – by regularly starting work 45 minutes before their shift starts.
"If 2020 has taught us anything it's that we need to value the time and experiences we have with each other and our loved ones."
What's more, 2 percent are tallying up a huge one year and two months' worth of overtime by starting work an hour earlier than they are contracted to. In total, this means that collectively Brits are losing 917 days on unpaid work across their working lifetime, just by beginning their working day prematurely on a regular basis.
And for those working after their shift ends, three in ten Brits (30 percent) are spending a further 147 days undertaking work in their lifetime, finishing late by 20 minutes each day, and 14 percent are working an extra 330 days in their lifetime by concluding work 45 minutes after they're supposed to.
Even more shockingly, 5 percent of Brits rack up an extra one year two months overtime in their lifetime by logging off an hour or more after they should be finishing work. Overall, this means that Brits are putting in an extra two and a half years work in their lifetime, just by continuing to work outside of their contracted hours.
More than three in five Brits (61 percent) admit they would rather have a better work-life balance, which is being achieved in some respects, with increased home working meaning commuting time is being reduced or completely removed. However, this balance is still being compromised with so many putting in longer hours than they're contracted to even while working at home, perhaps unaware of the accumulative amount of time they're losing from their personal lives.
So, what else could Brits be doing with this time? Hitachi Personal Finance offer five alternative activities UK workers could be doing instead of working outside their contracted hours:
1. Learn a new language
If learning a new language is of interest, research suggests that it takes 480 hours to reach basic fluency. Meaning in the six weeks spent on overtime each year, you could learn at least one new language, maybe even two.
2. Gain a new habit
It has also been widely reported that it takes just 21 days to form a habit, so in the same time you spend working overtime each year, you could be making two new habits part of a daily routine that could have a positive impact on your life, such as exercising, quitting smoking or meditation.
3. Earn a degree
If you've ever wanted to study a degree or add another one to your belt, it could be doable if you skip the extra hours in the office or working from home. You can complete a 3-year degree in 108 hours at the Open University, meaning you could easily get a degree or two under your belt by sacrificing the extra time sat behind a desk.
4. Binge watch a box set
If getting your teeth into a good boxset is more your thing and you're a Game of Thrones fan, you could binge-watch all eight series instead of putting in the extra graft behind their desk at home or in the office; it would take three days and 16 minutes to watch from start to finish.
Marvel films more your thing? It would take just over two days to watch all 23 movies, so in the six weeks you'd otherwise be spending working overtime in a year, you could sit down and watch the entire superhero franchise 20 times.
Commenting on the findings, Vincent Reboul, Managing Director of Hitachi Capital Consumer Finance says: "It's very interesting to see the sheer amount of people in Britain who are working way past their contracted hours. If 2020 has taught us anything it's that we need to value the time and experiences we have with each other and our loved ones, as well as making sure we're dedicating time to ourselves.
"Putting in the extra hours during the working day can sometimes be inevitable, but we wanted to highlight just how much this adds up to over time. This is particularly relevant as home working has become the norm for many, which appears to have blurred the lines between work mode and home mode. Hopefully these findings help workers to realise how much time they do have available to them once they start paying attention to their work/life balance."