September 5, 2023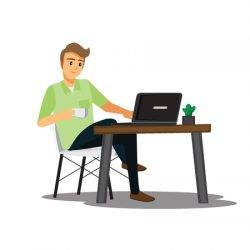 Have we all gone a little OTT on RTO? The so-called return to office and pushback on  working from home seems to be the must-talk topic on workplace strategy right now; a heated debate ignited by Zoom's recent call to reduce remote working days for its employees.  Many have been surprised at how polarising this decision has become. Who would have thought that a global business asking employees to work from the office two days a week could cause such controversy? Even if that business does specialise in video calls for remote work?
Some have accused Zoom of hypocrisy over its hybrid approach, while others back the back-to-the-office mandate, saying it is the only way to ensure productivity. A few have even asked if this move will 'burst the bubble' on remote work. Maybe we should just leave Zoom to it, knowing it will have made its decision based on its own business needs, not the public perception.
After all, we're living in a world where the one-size-fits-all approach to working patterns no longer holds water. A world in which every business is now asking themselves how best to balance its many objectives, namely:
Ensuring productive teams, and therefore profitability
Guaranteeing great workplace morale
Attracting, developing and retaining talent
Increasing workplace diversity
Reducing costs
Improving innovation and collaboration…
… and perhaps most importantly, creating a shared sense of purpose and 'culture'.
In these circumstances, no two businesses can plan alike. What works for a start-up software company, may not work for a retail operation or global manufacturer. Already we have examples of businesses operating at both ends of the spectrum. While some businesses have hedged their bets, others have gone 'all-in' on a particular workplace approach.
Airbnb, for example, has openly expressed its wish that its employees 'work from anywhere', as it believes workplace location flexibility will help it to attract top talent. Revolut, another fast-growing company, announced it would let employees work from abroad for up to two months to 'enable employee experience and choice'.
At the opposite end of the spectrum, Amazon has enforced return to the office for three days a week. JPMorgan Chase & Co CEO Jamie Dimon has also ruffled a few feathers with a similar 'back to the office' refrain.
It's important that the dynamic CEO, or people-centric HR lead takes time to reflect, rather than follow the herd on RTO. They should think about their own business needs instead, and then create workplace policies that suited those needs, and the needs of their people.
Their priorities may include successfully managing company culture, encouraging teamwork and creativity, and providing learning and mentoring for younger employees from their more experienced peers and managers.
Their employees may value flexibility, but also the camaraderie that comes from in-person working, and team-building events.
This may lead to a hybrid model, kept under review, or even fully-remote, or fully-return-to-office. There may be flexibility for employees to take 'workations' and work around their specific personal circumstances and commitments. There may not be. What's important is that the policy works for both the specific business and its people.
As CEOs, we must accept that the policies we decide upon may suit or even encourage more candidates to apply for roles at our companies, but may also potentially deter others. We should remember that 'you can please some of the people all of the time, and all of the people some of the time, but you cannot please all of the people all of the time'. Potential employees will then make their own decisions as to whether these conditions are right for them.
Any modern business should evaluate corporate and employee needs before coming to a decision on its own remote working policies. It's important that this decision is not rushed, and is based on the best interests of both parties. Businesses may also wish to set a time for a review once the consequences of a specific policy become clear.
In summary, yes, Zoom has proven popular during the pandemic and beyond. But that doesn't mean it can't flex to find the right way to win for both its business and its people.
The future of work is flexibility. It's also far from certain. Perhaps we should leave it up to individual companies, and the individuals they employ, to make choices on what is right for them.