May 16, 2013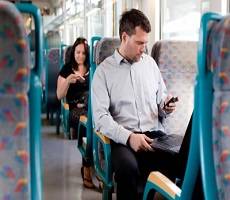 As argued on this site today, many people prefer to work while commuting and research published today supports this view. A survey of over 2,000 British workers by recruiter Randstad reveals the number of employees who work while they commute rose from 4.8 per cent in 2008 to 7.5 per cent in 2013. There's also been a big rise in the number of "extreme commuters" – those travelling more than 90 minutes each way – which has increased by 50 per cent, from just over one in twenty (6 per cent), to almost one in ten (9 per cent). However, while 18 per cent of British workers feel that the development of smartphones and tablets has made it easier for them to work while they travel, – one in ten (9.2 per cent) say that new technology has increased the pressure on them to get work done on their journey to and from work.
Mark Bull, UK CEO of Randstad, said: "In a tough economic environment, employees are under pressure to demonstrate their value to their employer and committed high-flyers are out to impress.
"This is manifesting itself as more employees work outside normal hours while they're commuting. The growth of new technologies such as smartphones and tablets means it's easier than ever to work around the clock. Our analysis shows the average Brit already feels they're spread too thin by having to work the equivalent of a six and a half day week.
"Working on the move looks like a smart way of using downtime to increase productivity and improve your work / life balance to get home as soon as possible rather than staying in the office longer."
The average British worker commutes for a total of 41 minutes each day and has to travel a total of just under 17 miles on their daily trip to and from work.  British commuters are spending marginally less time (2.3 per cent) on the move than they were before the economic downturn began to take hold.  In 2008, the average British commute took a total of 42 minutes each day.
There has, however, been a larger fall in the distance British workers have to travel to work. In 2008 the average total daily commuting distance was 18.5 miles. This has now fallen to 16.7 miles, a drop of 10 per cent. While the fall in commuting distance shows Britain's workers are now living closer to their workplace, the fact commuting times have remained broadly the same suggests commuters are managing their commutes and using slower – possibly cheaper – modes of transport than they were before the downturn.
Mark Bull, said: "Commuting is the interaction of demography with geography.  With the force of suburban growth now overpowering, three hours of commuting a day is no longer extraordinary.  Commuters travel across counties the way they used to travel across neighbourhoods. These numbers suggest the number of British people who travel ninety minutes or more each way to get to work, "extreme commuters" has now reached 1,840,000.
The central tenet of the commuting life is that you travel away from the workplace until you reach an area where you can afford to buy a house that meets your standards.  Although there are other variables like schools and spouses and occasional exceptions in this equation you're essentially trading time for space, miles for square feet.
Although trains enable travellers to work or read a newspaper, magazine or book (14.5 per cent) the car remains Britain's favourite method of transport of choice when it comes to commuting, with 53 per cent of using a car to get to and from work. The train, underground or tube is the next most popular with 10.6 per cent choosing this method.  The bus is the third most popular with 10.2 per cent.