February 5, 2021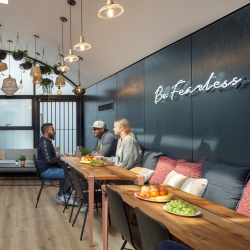 Let's be honest, work life pre 2020 had its flaws, whilst the longing for variety of scenery, change of pace and even a train journey (somewhere…ANYWHERE) would be welcomed by many of us right now, many of us had become a bit 'hamster wheel' in our approach. Commuting was stressful, expensive and time hungry; our natural and individual rhythms squeezed into a set 9-5 schedule and workplace design had become a bit 'quantity over quality' – desks have been reducing in size year upon year in order that capacity could be increased. We had reached a point at which everything was ripe for change but there was largely a resistance to both flexible working requests and embracing much of the technological advancements that were already at our fingertips.
The silver lining of COVID19 is that it has jump-started a 'workplace revolution'. The global remote working experience has given organisations the opportunity to radically adapt working patterns and behaviours.  In order to work out what we need from the next generation of workplaces, let's first pause and think about what we have missed.
Communication
There are multiple ways in which information is shared IRL that cannot be replicated virtually. We didn't realise how critical interaction with colleagues, whether impromptu conversations or face-to-face collaboration was to sparking or building ideas, until it was gone. These moments are the key to us learning and evolving and feeling connected.
Creativity
Of course it is possible to be creative independently; My dear friend Clare Warde lives alone, started painting in Lockdown 1 and was featured as Grayson Perry's FAVOURITE artist on his brilliant show! However, if you're used to working in a team, collaboratively producing and building ideas, products and plans, then 100% remote working is a challenge.
Culture
There is camaraderie and  community that comes from sharing an office. Social interactions and friendships at work are important and a critical component of good mental health. People, after all,  are what make a business.
Space and boundaries
The home is now the office (and school for some too) and for many that means that the boundaries of work and life have all but disappeared. There are functional challenges of patchy wifi, poor equipment, lack of space and mundanity that increase our desire for an external workplace. We even miss the journey to and from work and resetting between 'modes'.
2021 could be the foundation of a workplace revolution building on the enforced changes, both positive and negative, of 2020.
New behaviours
Remote working has meant that we have seen and learnt more about our clients and colleagues then ever before. The accepted background noises or interruptions of partners, children and pets during meetings would not have been imaginable even a year ago. Will there be a return to 'normal' work behaviour, or will we continue to allow ourselves and those we work with, to be more than our job roles and treat each other with increased empathy? We hope so.
Flexibility
We have moved into the era of flexibility and autonomy; allowing us to set schedules around our individual requirements. When faced with Lockdown 1, Richard Moross CEO at MOO.com, introduced a curated flexibility of focused mornings and collaborative afternoons. This guidance allowed the teams to manage their days whilst remaining connected. Gensler's Nayan Parekh writes "There must be a right balance between how companies can spur curated collaboration and use space efficiently, each organisation needs to determine where this balance lies for them"
Shared space
The demands of the last year have made many of us adept at transforming home spaces into work and school environments. This ability to adapt will suit us well in the hybrid work model where desk and space ownership will become outdated. We expect the ratio of fixed desks to collaborative/meeting spaces to now flip, with the majority of space being prioritised for working together.
A slower pace
An unforeseen perk of the last year for some, has been slowing down. While productivity at the expense of all else has previously been the driving force of many businesses, there has had to be an acceptance of a more human-focused gear shift this last year. I love how Rachel Botsman states in a recent article, that pre-covid she "mistook speed for efficiency". Slow she says is a "new necessity:
Slow allows us to think in unstructured, unconventional ways.
Slow allows us to enjoy the steps in the process, not just the end goals.
Slow allows us to be less reactive and more proactive.
Slow allows deep, trusting relationships to form."
Diversity and inclusivity
Remote working allows recruitment from a much wider pool with proximity to the workplace no longer being a top criteria.  Flexible working also creates accessible opportunities to those with disabilities. It certainly helps those with dependents manage their time, so pick ups and drop offs can be scheduled in a time-effective way.
Necessity of trust
Work hybridity must center on trust.  With the remote experiment concluding that WFH is more than possible, trust in it has grown exponentially. Trust has long been studied as a key factor of building successful teams; when we give and receive trust it boosts morale and in turn makes us more effective.
Community
A positive community shares values, objectives, passions and purpose. Human-centric office design can help to facilitate this and should be at the core of any new workspace concept. Spaces must be engineered around the needs of those who inhabit them including areas for social interaction, learning, expression, wellbeing and creative stimulation.  It is the pull of a community that will encourage people back to the office when the time comes.