October 9, 2019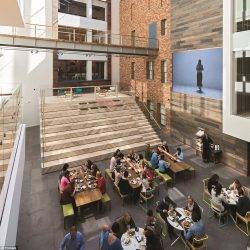 By 2030 we will see dramatic change as office design creates hyper-flexible, human-centric workplaces to inspire new levels of productivity, according to the Workplace Futures report by Nespresso Professional and The Future Laboratory. This implies a fundamental shift not only in how offices look, but –more importantly -in the purpose they serve.
The report claims that 95 percent of office workers say the quality of their workspace is important to their mental health.
The experts interviewed for Workplace Futures outline that future workplaces will adapt to its inhabitants and become "Sentient Spaces" which serve to optimise a workers' performance, sharpen their focus and encourage conviviality.
Meanwhile, with 85 percent of British adults experiencing stress regularly, the report claims that addressing burnout is going to be a key driver for companies. The report claims that by focusing on humans' innate attraction to nature, this mimics 'nature' in the workplace (maximising natural light, incorporating natural materials etc.) to reduce stress.
The report also suggests that we will also see the gradual adoption of new, holistic approaches to work, such as "Slo-working" – the deliberate deceleration of the pace of work to discourage burnout. This approach further cements the importance of social spaces and pause points in the future workplace, providing workers with areas to slow down, switch off, or communicate with colleagues.
The report claims that the workspaces of 2030 will be:
'Hyper-flexible hubs' of collaboration, contemplation and community.
Hospitality-inspired offices to satisfy workers' expectations of convenience as well as their desire to feel part of a community. 'Lo-co Workspaces' will constitute a more flexible and localised evolution of today's co-working spaces, found on local high streets.
Increasingly begin to shape the surrounding public realm, stepping in to serve and support others. We will also see redundant retail spaces transformed into co-working hubs as a means of reinvigorating local communities, creating the 'Work Mall' – a hub offering meeting, exhibition and co-working spaces for the wider community.
Catered for whole communities, rather than only the people who work there, as the workplace becomes a true Civic Hub, providing people with spaces to work, learn and come together socially.
Technologically advanced to augment human interaction. This will end reliance on global corporate headquarters, business parks and city centre business districts. Companies will re-imagine these workplaces as 'Flagship Offices' – central hubs in which a Fluid Workforce can come together for important company-wide events.
Image: Primark Dublin designed by Morey Smith