July 6, 2015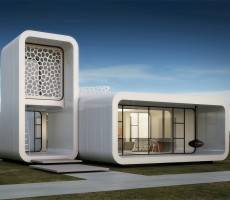 Could this be the shape of things to come? A Chinese 3D printing firm has announced that it has plans to print a fully functioning office in Dubai (where else?). The company, WinSun, will use a 20 foot tall printer to create the components for the 2,000 sq. ft. building which will then be assembled by hand. The local developers behind the scheme claim that the technology, once perfected, will cut project delivery times by as much as 70 percent, waste by up to 60 percent and labour by between 50 and 80 percent, compared to traditional methods of office construction. WinSun has a track record of printing affordable housing in its native country, but this is the first time that it has applied its large scale 3D printing technology to an office building. It also plans to print interior architectural elements and office furniture for the building.
However, it is not able to print all of the materials for the new office so will incorporate other non-printed components made from glass and concrete.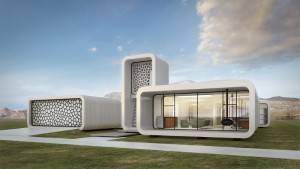 "This building will be a testimony to the efficiency and creativity of 3D printing technology, which we believe will play a major role in reshaping construction and design sectors," claims Mohammed Al Gergawi, UAE Minister Of Cabinet Affairs and The Chairman of UAE National Innovation Committee. "We aim to take advantage of this growth by becoming a global hub for innovation and 3D printing. This is the first step of many more to come."
The building will be located close to the 'Museum of the Future', launched earlier this year in Dubai, and will act as temporary headquarters for its staff. The project is the first major initiative of the 'Museum of the Future' and is part of a larger partnership between Dubai and WinSun along with architecture and engineering firms Gensler, Thornton Thomasetti, and Syska Hennessy.