April 16, 2015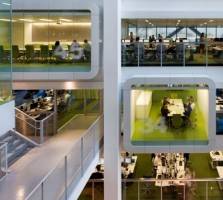 The Green Building Certification Institute (GBCI) and the International WELL Building Institute (IWBI) have launched their WELL Building Standard in China. The standard sets out to improve the health and wellbeing of people and claims to complement international green building rating programs such as LEED, BREEAM International and Three Star. The Standard is a performance-based system for measuring, certifying and monitoring features that may impact human health and wellbeing, through air, water, nutrition, light, physical health, comfort and mental and psychological wellbeing. The standard claims to be based on medical research that links buildings with the health and wellness of the people working and living in them and helps building owners and occupiers to understand those links and create a healthier working environment.
"Our world today is confronting massive health challenges that are assaulting our complete physical, mental and social wellbeing," said Rick Fedrizzi, CEO & founding chair, US Green Building Council. "As these challenges continue to mount, all of us have an obligation to be more purposeful when addressing how human health relates to our built environment. The WELL certification program is a powerful way to accelerate better, healthier buildings throughout China."
"We think there is a great market opportunity in China for companies to be at the forefront of healthy building practices," said Paul Scialla, founder of the International WELL Building Institute. "We are excited by the strong interest and demand we have already received from companies and projects that are interested in WELL certification and merging together best practices in environmental and human sustainability."
"The new standard will open up huge opportunities for building product manufacturers which are ready to respond to the fast growing demand for healthy and low-emitting products" said Alfonso Senatore, founder of Ongreening, a web platform devoted to green building best practices.
Image: Macqaurie Bank in Sydney which is being piloted for the WELL Building Standard