April 17, 2015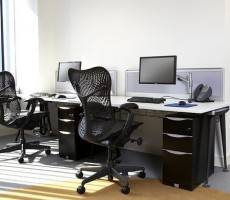 The widespread adoption of mobile devices, not to mention the development of the Internet and uptake of flexible working, may render the Health and Safety (Display Screen Equipment) Regulations 1992 hopelessly out of date, but they continue to oblige employers to ensure that employees' workstations are assessed for ergonomic comfort and safety. A survey by Fellowes claims over half of companies (62%) acknowledge they have a duty to foster the physical and mental health of their staff, but found that 31 percent of workers were left in charge of conducting their own self-assessments. In over a quarter of organisations (27%), staff raised concerns that their monitor or display screens were not appropriate and more than one fifth (21%) weren't aware of any legal requirements when assessing a display screen.
As a result, the research reveals, work demands, physical health and the working environment are not being correctly addressed, and 22 percent of employees raised concerns that they experience physical discomfort at their desk on a daily basis.
Darryl Brunt, UK & Ireland Sales and Marketing Director at Fellowes, said: "The topic of employee wellbeing has grown in popularity over the past few years, especially with the recovery of the job market and the need to attract and retain the right calibre of employee.
"However, it is still evident that some businesses are overlooking the importance of their staff's health and wellbeing needs. Creating a safe environment so an employee feels both at ease and comfortable will only improve productivity and benefit organisations in the long term."
It appears that the health and wellbeing needs of new members of staff are being prioritised over and above longer-serving members, with workstation assessments only being prompted by the arrival of a new member of staff in 22 percent of organisations.
For those longer serving members of staff, the research revealed workstation assessments were only conducted on request in one third of companies and even then a workstation assessment would only trigger change in one in five organisations.
Commenting on the research results, Professor Peter Buckle, from the Helen Hamlyn Centre for Design, Royal College of Art and Former President of the Chartered Institute of Ergonomics and Human Factors, says: "Modern offices are highly complex systems. Understanding the health and wellbeing of staff in the modern workplace is an on-going struggle for many organisations. Clearly the application of the discipline of ergonomics is an important part of ensuring that systems are performing at their peak whilst maintaining a workforce that is both healthy and satisfied at work."
For more information on the DSE regulations click here.
Image courtesy of Wellworking