December 11, 2020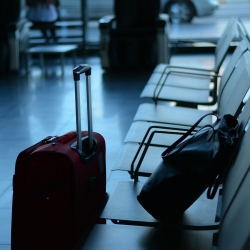 As lockdown restrictions and tier systems continue to cause chaos, Direct Line Travel Insurance claims 16 million UK workers still have unused annual leave as we near the end of 2020. With many unsure what to use holiday for as they are unable to go away or socialise with people, more than 19 million days of annual leave look set to be lost by UK employees.
On average, employees have 18.5 days of paid annual leave per year. However, of those whose holiday entitlement lasts the calendar year (January – December), the average number of days left is six days, accounting for a third (33 percent) of the annual total. It would seem that those aged 35-54 are more likely to have the most annual leave left to take, with an average of 6.5 days to take before the end of the year – they are subsequently likely to lose 1 day on average each, compared to the average for all adults at 1.2 days.
Covid-19 restrictions are a common theme as to why people are not taking their full entitlement of annual leave. Workers with unused leave cited feeling like taking time off to do nothing is a waste (21 percent) and not being able to go on holiday abroad (20 percent) as the top reasons for not using leave. Having had at least one holiday abroad cancelled (16 percent), not needing time off due to working from home (16 percent) and not being able to go on holiday in the UK (16 percent) are other common reasons.
"Now more than ever it's vital to have a break."
It seems the lack of a formal holiday due to restrictions means even those who are taking time off are not fully switching off, with 18 million workers admitting they have done some form of work related task while on leave. Checking work emails (27 percent), answering messages from colleagues about work (23 percent) and answering or making work-related calls (17 percent) are the most common work tasks people will carry out during a day off.
As businesses strive to find a balance between being fair and what will work for the company in these unprecedented times, many HR departments have been deploying tactics to manage employee holiday allowances. To avoid a bottleneck, two fifths (39 percent) of companies have forced workers to take time off if they have not used an appropriate amount of their entitlement, have asked employees to not take as much time off as they would normally (42 percent) and even asked colleagues to forfeit some of their holiday to help the business (41 percent).
To tackle holiday overspill, nearly half (45 percent) of HR teams plan to allow employees to carry over a limited number of days into 2021, but around a third (29 percent) will make employees take these days by a certain time. One in five (19 percent) HR teams plans to allow employees to carry over an unlimited amount of days for an unlimited amount of time.
Type of actions HR professionals have taken to encourage employees to take annual leave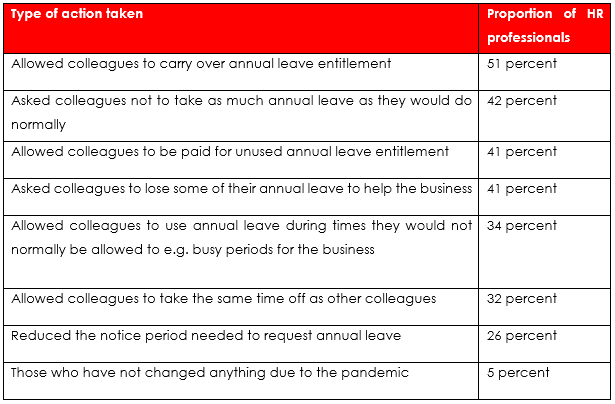 Tom Bishop, Head of Travel Insurance at Direct Line, said: "Covid-19 continues to impact many aspects of our lives, so it's really important to take time away from our screens to help us relax, unwind and recharge. With so many people now working from home it is understandable that many are finding it difficult to not log-on during a day off, but now more than ever it's vital to have a break."
Image by Stela Di