July 21, 2021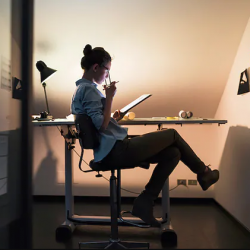 New research commissioned by Cisco claims the digital priorities and growth opportunities for small businesses in the UK, as they navigate a new hybrid world.
Accounting for 99 percent of UK companies and 60 percent of the workforce (FSB), as businesses in the UK open their doors again, small business owners are looking at how they use technology to grow, rather than in a reactionary way and out of necessity.
Significantly, more than half (54 percent) of those surveyed believe their future growth now depends on increasing their footprint online.
The COVID-19 pandemic changed how all businesses operate, how employees work, how customers purchase, and how products and services are delivered. Over half (52 percent) of those studied now believe there is now no going back to how things were before the pandemic, and so are looking for ways in which to adapt to this new reality.
Using technology with intent
While 40 percent say they would not have survived the pandemic without a digital presence, they're now leaning into technology as a digital lifeline that will fuel their future growth.
When it comes to investing in technology, 51 percent of small business owners plan to increase their digital presence in the next 12 months. Some are going further: a third (32 percent) are going to focus on their online business now, and either wind up or reduce their physical business.
From a people perspective, entrepreneurs plan to use technology to help support new working patterns for their staff. For example, 39 percent say employees will have greater flexibility to work from home than they did before the pandemic.
More broadly, a shift to digital can help small business owners improve the sustainability of their organisations, something which 58 percent say is important to them. Supported by digital technology, 32 percent say employees will be encouraged to minimise travel to help reduce their carbon footprint
Critical success factors
While technology represents a huge opportunity for growth, small businesses must feel empowered when it comes to implementing new technologies. One key area is skills, and encouragingly 35 percent plan to invest in upskilling employees to support digital transformation.
Another is having the reliable connectivity that will provide the backbone for technological advancement. Small business owners view reliable and fast connectivity as the most important technology to their future (50 percent), and yet 1 in 10 (16 percent) have been unable to increase their digital presence because of poor connectivity. This is a particular problem in the finance industry (30 percent) and in the capital, with nearly a quarter (23 percent) of London based small business owners saying poor connectivity had held them back digitally.
"Small businesses are the backbone of the economy and will be what fuels the recovery."
The research also highlights that not all small businesses are as aware of the threat of cyber-attacks. As many as 40 percent say their business is not vulnerable from a cybersecurity perspective. While having the right software in place to defend against cyber-attacks is important, human error is one of the biggest risk factors for opening the door to malignant actors, and so businesses of all sizes should be consistently reviewing and evaluating their practices.
Aine Rogers, Head of Small Business, Cisco UK & Ireland said: "Small businesses are the backbone of the economy and will be what fuels the recovery. For a large part of the year, if it wasn't online, it didn't happen – and for many small businesses there is little contingency for them to fall back on if they're not able to make sales. While many small businesses were already pioneering in their use of tech, we've seen swathes make the move to be – in some cases – entirely digital."
Image:Cisco