May 26, 2016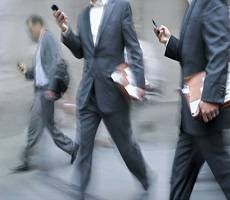 In a further nod to the growing relevance of flexible working, the ability to work anytime, anywhere is now key to job satisfaction with well over a third (38 percent) of employees in a global survey rating this as the number one factor, with the UK (43 percent) scoring this the highest. According to the "Mobility, Performance and Engagement" report from the Economist Intelligence Unit (EIU) and Aruba, employees in Western countries report themselves to be happier in their jobs, more loyal to their employers and more productive in their work compared to their counterparts in Eastern markets. When it comes to securing loyalty, the ability to hot desk was seen as paramount by many employees, notably in Singapore (37 percent), UAE (31 percent) and the US (34 percent), while the ability to collaborate with other employees was the number one choice for employees in Germany (43 percent), France (37 percent) and Japan (35 percent).
Based on the self-assessment of 1,865 employees, those in key Western markets especially the US, Germany and the UK consistently rated themselves higher for key performance metrics across loyalty, job satisfaction, productivity and creativity, compared to Eastern markets such as Japan and Singapore.
A number of key trends were identified:
Loyalty and satisfaction lower in the East: Nearly a third (29 percent) of US employees consider themselves completely loyal to their employer, closely followed by Germany (27 percent) and in stark contrast to Japan (5 percent). US and German employees are also the most satisfied (15 percent and 10 percent give themselves a 10/10 score for job satisfaction) compared to just 3 percent in Japan and 6 percent in Singapore
The west wins the productivity battle: 20 percent of the US give themselves 10/10, followed by 16 percent in Germany and 12 percent in UK. Eastern markets see themselves as less productive with only 5 percent in Japan and 9 percent in Singapore awarding themselves top marks.
Mobile technology uptake higher in the west: Nearly one in five (18 percent) German respondents regarded their company as a 'pioneer' in adopting mobile technology, compared to that of Japan with 7 percent.
Rising expectations from the workforce globally: 40 percent of early adopters of technology (#GenMobile) said they would never work for a company that did not allow them to use their own mobile devices for work, suggesting mobility is playing an increasingly vital factor for attracting talent.
Chris Kozup, Chris Kozup, Vice President of Marketing at Aruba, a Hewlett Packard Enterprise company commented: "Companies are only as good as their talent. Looking at these findings, there is a risk of employers missing out on huge talent pools through not addressing mobility in full. The way we work is changing to suit the needs of #GenMobile and if companies do not stay ahead of the curve they may inadvertently be creating less productive working environments that are overlooked by the best candidates."
Mobile applications for work collaboration were found to be in use at 42 percent of companies surveyed, while 33 percent used video calling and 31 percent were using instant messenger applications.
Besides improved levels of productivity, satisfaction and loyalty, these practices were also found to be resulting in improved work life balance. Again through self-assessment, the US regard themselves as the most balanced workforce, with 16 percent of employees rating their work-life balance a perfect 10/10, compared to that of Japan and the UAE coming in at 3 percent and 5 percent.
Kozup concluded: "It is clear that the freedom to work at a time that is most productive to the employee is crucial, which is why mobility is at the top of their check list. Businesses need to evolve their offering now in order to secure #GenMobile employees before their competitors do. By doing this, the benefits will be long term and employers both East and West can compete on equal footing to attract and keep talent."