March 31, 2017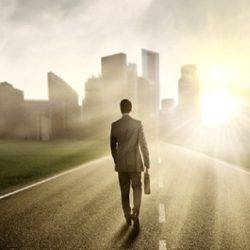 While talent continues to reign supreme on the list of top concerns for US companies a growing number of respondents to CBRE's annual Americas Occupier Survey cited economic uncertainty as a top challenge, up from 36 percent in 2016 to 52 percent. As a result, 87 percent of corporate occupiers report that they are managing to this uncertainty by disposing of surplus space and/or implementing more efficient workplace designs to prepare their portfolios for the future. Only 26 percent of respondents expect to expand their portfolios over the next two years, down from 38 percent in the 2016 survey. Approximately one-half of the 2017 survey's respondents indicated that the size of their portfolios would remain stable with 2016 levels. However, while uncertainty is driving many real estate decisions, creating a workplace experience focused on talent remains top of mind for the majority of occupiers surveyed.
Sixty-seven percent of respondents cited employee satisfaction as the key measure of the success of their workplace strategy programs. This is a higher percentage cited than occupancy cost per sq. ft. (56 percent), occupancy cost per employee (53 percent) and target cost reduction (42 percent). Further, 55 percent of respondents said talent attraction or retention was among the top three drivers of their organizations' workplace strategy, and 53 percent said promoting collaboration was the most important driver. Only 40 percent cited operating expense savings as among the top three drivers.
"Mobile and cloud technology has made it efficient to work from anywhere, so the office is becoming an optional place," said Julie Whelan, Americas head of occupier research, CBRE. "Employees must be drawn to the workplace through a positive emotional connection. In turn, employers benefit from a collaborative and cohesive culture because both formal and informal communication are more powerful when face-to-face."
To motivate employees to come to the office, occupiers are turning to a range of amenities and services that support the integration of the workplace into both their personal and professional lives. Sixty-four percent of respondents said amenities are most important to their labor forces, with food offerings being the most prevalent (81 percent) and hospitality services on the cutting edge (32 percent).
Employers are also increasingly placing importance on developing a workplace culture that enhances employees' health, with 76 percent of survey respondents reporting running an employee wellness program.
Elevating the Corporate Real Estate Function
The management and operation of corporate real estate departments is continuing to centralize and rise in importance within corporations. While there is clear recognition of real estate's impact on employees, the prevalent organizational structure remains cost-centered, with 66 percent of respondents reporting to finance, operations or procurement departments.
"Today's top companies are shifting the traditional view of the physical space from a mandatory cost toward a customizable, revenue-enhancing tool," said Matthew Toner, managing director, Global Workplace Solutions, CBRE. "Business leaders clearly accept that a well-designed and managed office can enhance their employees' collaboration, engagement, health and productivity. However, empirically demonstrating CRE management decisions drive improved metrics in these areas remains the holy grail."
"Regardless, there's no question CRE tech has entered the mainstream," Mr. Toner added. "The new breed of technology provides previously unfathomed abilities to efficiently monitor buildings, optimize space utilization and engage employees."