June 9, 2023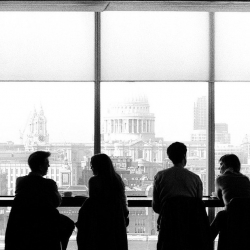 More than half (54 percent) of Britain's employers expect Artificial Intelligence (AI) technologies will have a positive impact on their staff headcount over the next two years, according to a survey by Experis, a part of ManpowerGroup.  The survey of 2,000+ British employers also suggests that more than two thirds (69 percent) of businesses expect AI tools and technologies – including ChatGPT, Machine Learning and Virtual Reality – to have a positive impact on upskilling and reskilling, as well as on employee training (68 percent). 67 percent of British organisations anticipate a positive impact on employee engagement because of AI technology, and 60 percent think it can positively impact the onboarding process too.
Talent demand in the UK's IT sector is estimated to continue to outgrow supply as the survey also shows that IT employers anticipate a Net Employment Outlook of +43 percent for Q3. While this has weakened by 5 percent on the previous quarter and 8 percent compared to this time last year, it is still an exceptionally high Outlook and 4 percent higher than the global employment Outlook for IT (+39 percent).  It also contrasts with recently announced mass layoffs by companies including BT, Meta and Vodafone.
The optimism around the impact that new technologies will have is not limited to artificial intelligence but also extends to the Metaverse. The Experis survey also claims that despite only 24 percent of respondents being very familiar with the metaverse, and 63 percent having no experience of using it in a professional context, they are optimistic about its potential use, with 65 percent believing new technology will have a positive impact on the world of work by connecting people.
When looking to candidates, 76 percent are comfortable with artificial intelligence use in the hiring process, but nearly half (46 percent) want a real person to review their application. And 40 percent of workers say they would feel comfortable with a virtual job interview. To find the right talent, employers will need to find suitable balance for their hiring processes when leveraging AI and automation. Tech can be complemented with human interactions to project and demonstrate the people and culture within an organisation; two very important factors that help attract a potential candidate.
"These findings suggest the mood amongst employers is largely at odds with wider concerns for artificial intelligence having a negative impact on future jobs," said Rahul Kumar, Director at Experis. "It seems many businesses are in fact feeling optimistic about AI and its potential to be used for effective recruitment and retention. This doesn't mean we should dismiss concerns around the possible negative impacts of AI on employment but there is clearly a strong sentiment amongst employers that these technologies can help overall.
"In the IT sector especially, where eight in ten employers (81 percent) are reporting difficulty in filling open roles – this optimism is to be welcomed as it could help to drive an AI-supported upskilling and recruitment revolution."
Kumar adds: "What we're seeing is an overcorrection on the accelerated pace of hiring that took place in this sector during the COVID-19 pandemic. This time last year, we saw big tech firms hiring in anticipation of a boom in the sector, yet the economy returned to business as usual faster than expected. Many of the recent announcements concerning mass layoffs are longer-term and will not necessarily have an immediate impact. But we would encourage those organisations affected, to try not to lose this workforce and the wealth of institutional knowledge, by supporting employees in upskilling and reskilling to fill the growing talent gap."
"With emerging technologies, companies are balancing immediate needs with the pressure to also invest in future proofing. Rather than fearing or dismissing AI and emerging technologies though, we're finding employers are really interested in understanding more about these technologies and the potential uses", says Kumar.
"There is enthusiasm to embrace tech across all sectors, with opportunity to remove transactional and repetitive aspects of a role. If we take customer service call centre roles for example, harnessing tech and AI for repetitive call queries can free up staff to provide a better service; focussing on the more complex issues that require full human attention and empathy.
"The fear of AI and emerging tech is a fear of the unknown. But it's a case of either exploring and investing in key emerging technologies now, or risk being left behind. AI will drive job creation rather than hinder labour market growth."
Kumar concludes: "AI, VR, and tools like Chat GPT will have the greatest impact on the generation currently entering the workplace. This group of workers are the most curious generation we've ever seen and they're keen to develop their skills and work in new ways. It's why we're challenging clients to tackle their skills shortages by hiring for 'learnability' and not only to look for qualifications. Digital transformation is happening at pace and to future proof your organisation you need to have curious teams willing to constantly upskill."
The Top IT staffing priorities for British employers are cybersecurity (36 percent), customer or user experience (33 percent), and technical support (33 percent), followed by database management (29 percent) Customer Relationship Management System (25 percent)
British employers cite investing in more automation (53 percent) and training and upskilling the workforce (53 percent) as the top two approaches they are taking to address tech challenges.  These are closely followed by hiring new workers with the required skills (50 percent), reskilling workers to move into IT roles (50 percent), and hiring short term staff (freelancers, contractors etc.) to fill skills gaps (47 percent).