June 27, 2016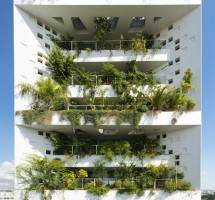 The Council on Tall Buildings and Urban Habitat (CTBUH) has announced the winners of its annual Tall Building Awards for 2016. The Awards are, judged by a panel of experts, primarily drawn from the property and architecture sectors. The CTBUH claims its awards provide 'a more comprehensive and sophisticated view of these important structures, while advocating for improvements in every aspect of performance, including those that have the greatest positive impact on the individuals who use these buildings and the cities they inhabit.' The best tall buildings have been announced for each of four regions: Americas, Asia & Australasia, Europe and Middle East & Africa. While the winners in the Middle East and US were both residential projects, the winners in Asia and Europe were both primarily office based or mixed use projects; the Shanghai Tower in Shanghai and The White Walls mixed-use building in Nicosia, Cyprus.
Best Tall Building Asia & Australasia Winner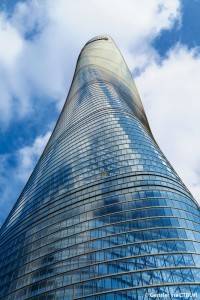 The overtly phallic Shanghai Tower addresses one of the most common criticisms of tall buildings – their propensity to turn surrounding streets into arid wind tunnels – with a twisting form that dissipates 'wind loading' by around a quarter. Completed last year, the buildings is 632 m tall (2,073 feet) and has 133 floors.  The tower incorporates nine vertical, each with its own 'sky lobby' with an atrium and garden to create a sense of community.
According to juror Antony Wood, Juror, Executive Director, CTBUH, Chicago: "Shanghai Tower shows the greatest commitment to communal space in a tall building since Commerzbank Tower completed in 1997. It contains the world's first truly 'inhabitable' double-skin façade on a skyscraper, which is not only remarkable for its intended greenery, but its incorporation into the tower's overall ventilation strategy. The sacrifice of valuable floor area to realize this social amenity proves that the aspirations for Shanghai Tower went far beyond mere commercial gain."
Best Tall Building Europe Winner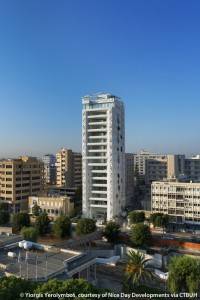 Not normally the sort of place associated with skyscrapers, The White Walls has 'single-handedly transformed the urban silhouette of Nicosia' claims the awards jury. However, the jurors draw attention to the unmistakeable Mediterranean aesthetic of the building, including the building's landscaped perforations, use of shade, white walls and use of native plants on the facades.
Karl Fender, Jury Chair, Director, Fender Katsalidis Architects, Melbourne said: "The White Walls is a truly groundbreaking exercise in materiality, serving as a successful expression of the architectural and environmental values of the Mediterranean across the vertical axis. Extensive vegetation on the north façade and the presence of loggias on the south façade create a very real connection with nature, while the tower's punctured concrete walls quite literally 'bleed green' with tangles of local plant species."