December 10, 2015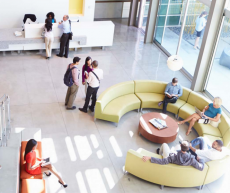 A new research paper claims to reveal changes in the way that UK companies now perceive and evaluate their commercial property portfolios – both as a physical workplace and as a strategic asset that can help them to meet corporate goals. The report, entitled Redefining Commercial Property Performance – The alignment of property and workplace with corporate objectives was written by Insight's own Sara Bean and was commissioned by managed office solutions provider Portal. As part of the research, interviews were conducted with property professionals, workplace consultants and occupiers including RICS, Leesman UK, TD Wealth International, TSK Group, Cushman & Wakefield and Sheffield Hallam University. The findings of the paper claim to reveal the growing importance of measuring the performance and return from commercial office space and the necessity to more closely align property with corporate goals.
The first part of the paper examines how space operates in relation to a company's over-riding business goals including its ability to adapt to changing business requirements. The second part then goes on to focus on how the workplace itself helps to boost overall productivity, effectiveness, brand values, well-being and retention of staff.
Property needs to be strategically linked back to the business
Director, UK Commercial Property Professional Group at RICS, Paul Bagust who was interviewed believes that conventional attitudes still prevail but that new ways of thinking are emerging. "What RICS has identified in its research is that the role of property needs to be seen as more than a business support function, but one that is strategically linked back to the business. The key is that it becomes part of the conversation and not some add on piece.
The trend has been about keeping costs down, because there's been a recession, but this has shifted more recently towards employee retention, as recruiting can be more difficult in a strong economy, therefore the property needs to support that objective, by really fitting the message to the business."
John Pike, Senior Adviser to Bellrock Property and Facilities Management, and Managing Director of 40 Percent Symposium commented, "Most CEOs do not want to have a conversation about technical real estate issues, leases or dilapidations; they want to talk about the overall business strategy. And while a lot of finance directors will be primarily driven by numbers, for the C-Suite there is the wider understanding of what their business is trying to achieve and how property fits into that picture."
Measuring workplace effectiveness – The Importance of benchmarking
The research also revealed the growing importance of measuring the effectiveness of workplace strategies. Tim Oldman, CEO at workplace performance benchmarking specialist Leesman argues that the fundamental problem for too many organisations is that, by being focused totally on costs some may get smarter in terms of utilisation but nobody is looking at output. This is what the Leesman Index has set out to do since its launch in 2010: "to provide a wholly independent measure of workplace effectiveness" and show that the purpose of the workplace is to support employee productivity and organisational performance – by taking a measure of what the workplace contributes, not solely/simply what it costs.
Inspirational Workplaces
Ian Ellison Senior Lecturer and Course Leader in Facilities Management at Sheffield Hallam University is interested in the factors that contribute to a "genuinely inspiring" workplace. He concurs with Leesman that the best way of evaluating the effectiveness of a workplace is to focus on the needs of an individual organisation, which can only be achievable by exploring the diverse needs and experiences of the people who will occupy that space.
A convergence of people and place
In order for a workplace to be truly effective though, real estate expert Chris Kane, ex Head of Corporate Real Estate at the BBC argues there must be "a convergence of people and place". They are he says, a company's most valuable assets and only by developing them both in tandem will you unlock their true value.
Creating effective workplaces in tune with corporate objectives
The research concludes that forward-thinking organisations are now beginning to acknowledge and understand how they can unlock the value of their workplaces. Traditional approaches to property based purely on cost are now shifting towards more operational perspectives that takes into account the exact and often unique needs of an individual business and what it is trying to achieve at a strategic level.
John Gotley, Managing Director at Managed Office Solutions, Portal who commissioned the research summarises, "The findings of the research clearly shows how an organisation's commercial property is no longer seen as simply a place of work, but is now considered to be central to the overall performance and future success of a business."
According to Gotley, the influence of the board on property choices is growing and so too is the recognition of aligning a property with commercial goals. "Senior decision makers from the CFO through to the CEO are driving the selection process. They want a property solution that closely matches their objectives, so is it cost-effective? Will it support overall productivity but also limit risk in the future? For example if a company grows or contracts they want the reassurance that their property portfolio is flexible enough to reflect these changes without hefty financial penalties. All these factors need to be built into today's commercial property equation."