June 6, 2023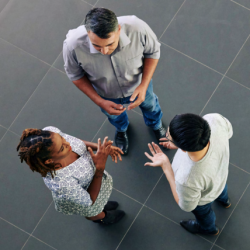 Most UK business leaders say that higher education doesn't fully prepare graduates for the workplace, according to a new poll from Multiverse. Yet the survey also suggests that over half (54 percent) of senior leaders at those companies still require degrees for entry-level roles. The findings, which come as part of a global report into business leaders' attitudes to on-the-job learning, show just a third (32 percent) believe a graduate's degree grade is one of the top three indicators of their potential. This comes as almost twice as many (59 percent) say they actually learned more valuable skills during their first two years in the workplace than they did during university.
Bosses at companies with more than 50 employees say universities do not do enough to prepare young people for the world of work. When leaders were asked whether UK universities are well suited to deliver the skills needed for the workforce, seven in 10 disagreed. Their top concerns include universities not sufficiently teaching durable soft skills like teamwork and leadership and Britain's universities not offering courses that link to real-world experiences in the workplace.
The poll also suggests that the average graduate needs more than 11 months of on-the-job learning before they are fully ready for the world of work, despite completing at least three years of higher education.
Business leaders back on-the-job learning as a better way of developing skills that the workforce needs. Seven in 10 leaders at larger UK companies (67 percent) say young people learning skills in the workplace is the best way to learn, twice as many as those who back higher education (31 percent).
Attitudes towards higher education are set to harden in the coming years according to company executives. Though more than half of all business leaders surveyed currently have degree requirements in place, four in 10 of those predict that higher education will matter less for applications in the next five to ten years (39 percent).