June 6, 2023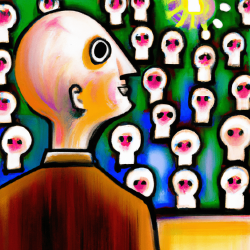 The vast majority of British workers (88 percent) are happy for artificial intelligence to be used in the recruitment process but draw the line when it comes to human decision making, according to a new poll from Totaljobs. The survey, which asked 2,002 UK workers about their thoughts on how AI will impact their working lives, found that nearly three-quarters (72 percent) believe that full disclosure of how the technology is used in the hiring process should be mandatory.
When it comes to the initial hiring process, the research indicates that jobseekers are tentatively in favour of the use of conversational AI tools, such as ChatGPT, to create job adverts (38 percent), tweak job adverts to remove biased language (36 percent), screen CVs and job applications for a human recruiter to then shortlist candidates (36 percent) and create interview questions (34 percent). 4 in 10 (42 percent) believe that proper and responsible use of AI will ultimately make the recruitment process fairer for applicants.
The research also reveals where people draw the line at having AI involved in their job-seeking journey and how face-to-face interactions are non-negotiable. Most candidates don't think it's acceptable for artificial intelligence to conduct job interviews (86 percent) or help with the decision-making process after an interview (84 percent). Only 1 in 10 (14 percent) would accept an interview conducted by an AI, with three quarters (66 percent) of participants worried about AI's inability to fairly assess a candidates' wider soft skills.
Beyond the hiring process there's a recognition from UK workers that AI has the potential to revolutionise their everyday tasks within the next 5 years (44 percent). More than half (54 percent) agreed that the use of AI will help cut down on manual tasks, 56 percent said it will empower them to learn new skills, and 46 percent said it will enhance their productivity. However, the research suggests there is a disconnect between the enthusiasm for the opportunities that AI offers and everyday adoption in the workplace.
Half of UK workers admit they have never used AI and only 21 percent said they feel very comfortable using it. In addition, more than a third (39 percent) do not have a clear understanding of how AI is applied in their industry.
There are already widespread expectations that employers need to invest more in AI and use it to increase productivity and performance in the workplace (46 percent). Almost 2 in 5 (38 percent) say companies that are recognised as leaders in AI technology make for more attractive employers.
Younger generations and office workers are generally more excited about the future possibilities and innovations AI will bring to their industry (48 percent of Gen Z and Millennials vs. 33 percent Gen X and Baby Boomers, 59 percent of office workers vs. 47 percent of manual workers). Women are more sceptical of the benefits of AI for their career growth (26 percent vs. 35 percent of men), and less comfortable than men in using it (65 percent men comfortable vs. 44 percent of women).
This scepticism is shared more broadly with 44 percent of people saying AI will increase inequality and biases in the workplace and 46 percent believing AI will eventually replace their roles.
The authors of the poll claim that whilst workers are enthusiastic about the opportunities that the artificial intelligence revolution has for personal career development, they're concerned about the long-term implications, such as a lack of human oversight, or their job becoming obsolete. As such, companies looking to implement a successful AI integration need to act transparently and with care. Upskilling employees and educating the workforce on AI's benefits will be key to smoothen the transition and deliver the vital human input necessary to reassure workers and drive a successful, lasting revolution of the workforce.