March 30, 2016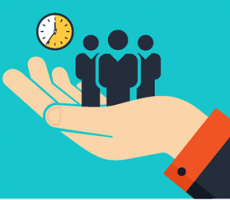 Although a competitive salary, company perks and an exceptional office culture may seem enticing to the American workforce, a new study shows there are more important motivational factors. A survey conducted by Kelton Global for Cornerstone OnDemand reveals that career satisfaction and work-life balance are the top reasons American stay at their current jobs (38 percent combined), while nearly three in ten (29 percent) resign due to work overload and lack of healthy work-life balance. Employees said they'd make life-altering decisions and considerable sacrifices in order to find a sense of satisfaction, fulfillment and purpose in their careers. In fact, 89 percent of employees would consider making a lateral career move with no financial incentive for multiple reasons, including to start an entirely new career (41 percent) or take on a professional challenge (40 percent). Additionally, relocating to a different city, state or country is a desirable career move for 77 percent of employees.
In a strong, employee-driven job market, these sentiments can have serious implications for employers when it comes to recruiting new talent, as well as engaging and retaining current employees. Cornerstone's "Career Trends Report: Employee Pursuit of Purpose" is the first in a research series that examines the constantly evolving multi-generational workplace, the motivations of today's American employees and the expectations of HR professionals. For the purpose of this survey, "career" is defined as the pursuit of a long-term professional goal that typically requires specific education or training, whereas a "job" is described as a short-term activity to earn money, usually not requiring specific education.
Interestingly, while 89 percent of employees would consider a lateral move within their company – a position with the same or similar title and pay grade but in a different department of an organization – only 27 percent of them would consider a lateral move to work for a different company. Of those who would consider a lateral move, nearly six in ten (57 percent) would do so for a position with greater personal satisfaction. Sixty-six percent of employees will first look to see if there is an interesting and open position at their current company before looking elsewhere. In fact, more than one in five (22 percent) employees have already made a lateral move at their company.
This suggests employees want to remain loyal to their current employers but only if they feel growth opportunities are abundant. In most cases, however, employers don't offer lateral opportunities. According to the survey, only 32 percent of respondents say their employer encourages employees to work in different departments to gain additional experience and skills.
The traditional notion of climbing up the corporate ladder has gone by the wayside, trumped by American employees' quest to find a career with more purpose and greater satisfaction. More than half of American employees (55 percent), including more than three in four millennials (76 percent), expect to change careers – not just jobs – at some point. In fact, 42 percent of respondents say they expect to have three or more careers in their lifetimes.
More than two-thirds (67 percent) of America's workforce who plan to change careers expect to do so within the next four years. This reinforces the need for employers to offer more opportunities for workers to keep them engaged and happy.
In the digital age, many employers offer flex schedules or the ability for employees to work remotely. More important than this type of flexibility to American employees, however, is the chance to work in another city, even if just temporarily. Seventy-seven percent of employees would choose to relocate if given the opportunity. Additionally, more than six in ten (61 percent) employees would go to great lengths to be able to work abroad, such as conduct a web conference with their boss every day (39 percent) or work six days a week (28 percent). Surprisingly, only 15 percent of respondents say their employer offers relocation opportunities.
"Over the past few years, the workplace has changed dramatically. In an employee-driven job market with Baby Boomers retiring, millennial employee numbers increasing and Gen Z entering the workforce soon, we'll be seeing even more of a shift in employer-employee dynamics," said Kim Cassady, vice president of talent, Cornerstone OnDemand.
"Companies need to stay ahead of and adapt to these changes by creating visibility into career paths that generate professional challenges and personal satisfaction. The first step is to listen to employees and learn how their unique personal needs intersect with their career ambitions. In doing this, organizations are better positioned to lay the foundation for an engaged culture rooted in continuous learning, professional development and internal career mobility."
"Employees are the frontline advocates for any organization – they truly make or break a business. That's why it's so important for employers to understand what motivates them," said Kirsten Helvey, chief operating officer, Cornerstone OnDemand. "What we're seeing across our client base is that the most successful brands are those that champion their employees and give them opportunities to realize their full potential."