October 10, 2018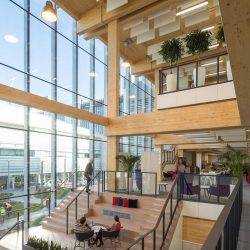 The International Council for Research and Innovation in Building and Construction (CIB) has published a free roadmap written by members of the W098 Commission and CIBSE Intelligent Buildings Group, which presents collective ideas for the creation of intelligent and responsive buildings for current needs and the future. Intelligent buildings present a number of challenges, according to the authors. They must be responsive to people's needs including their health and wellbeing; be sustainable in the use of resources as well as incorporating the most useful parts of the evolving technologies.
The Roadmap reviews these demands including the relationship of an intelligent building to the infrastructure of towns and cities. The processes of planning, design, construction and facilities management are complex and require decision making that is clear but realises the strategic and tactical inputs required by all the stakeholders including clients. Intelligent buildings are part of our history as well the future.
They are a distinguishing mark of civilisations worldwide. In the 21st century with increasing populations in cities buildings need to be places to work and live with pleasure and joy. Simple things like connecting with Nature give so much value. In the complex and high speed world we must not forget that simplicity has appeal to the human spirit besides being more durable in the long term.
The set of essays which comprise the Roadmap are written by members of the W098 Commission and CIBSE Intelligent Buildings Group and collectively open the door to thoughts and ideas for now and the future.
Table of Contents
Future of intelligent buildings: A critical debate on key performance indicators
Health and wellbeing oriented indoor built environments for future intelligent buildings
Technology aware workplaces
Daylight in intelligent sustainable architecture
Intelligent infrastructure
Sustainable urban transportation in intelligent cities
Keeping abreast with technology
Digital futures
Upskilling for technology enhanced collaborative working
Wellbeing homes
Bio-electromagnetic design
Main image: The Sky Believe in Better Building by Arup